These Vegan Banana Oatmeal Cookies are a fast and easy superfood treat. They're simple to make, store well, and are healthy enough to eat for breakfast! These plant-based cookies are the perfect baked good to keep on hand. 🍪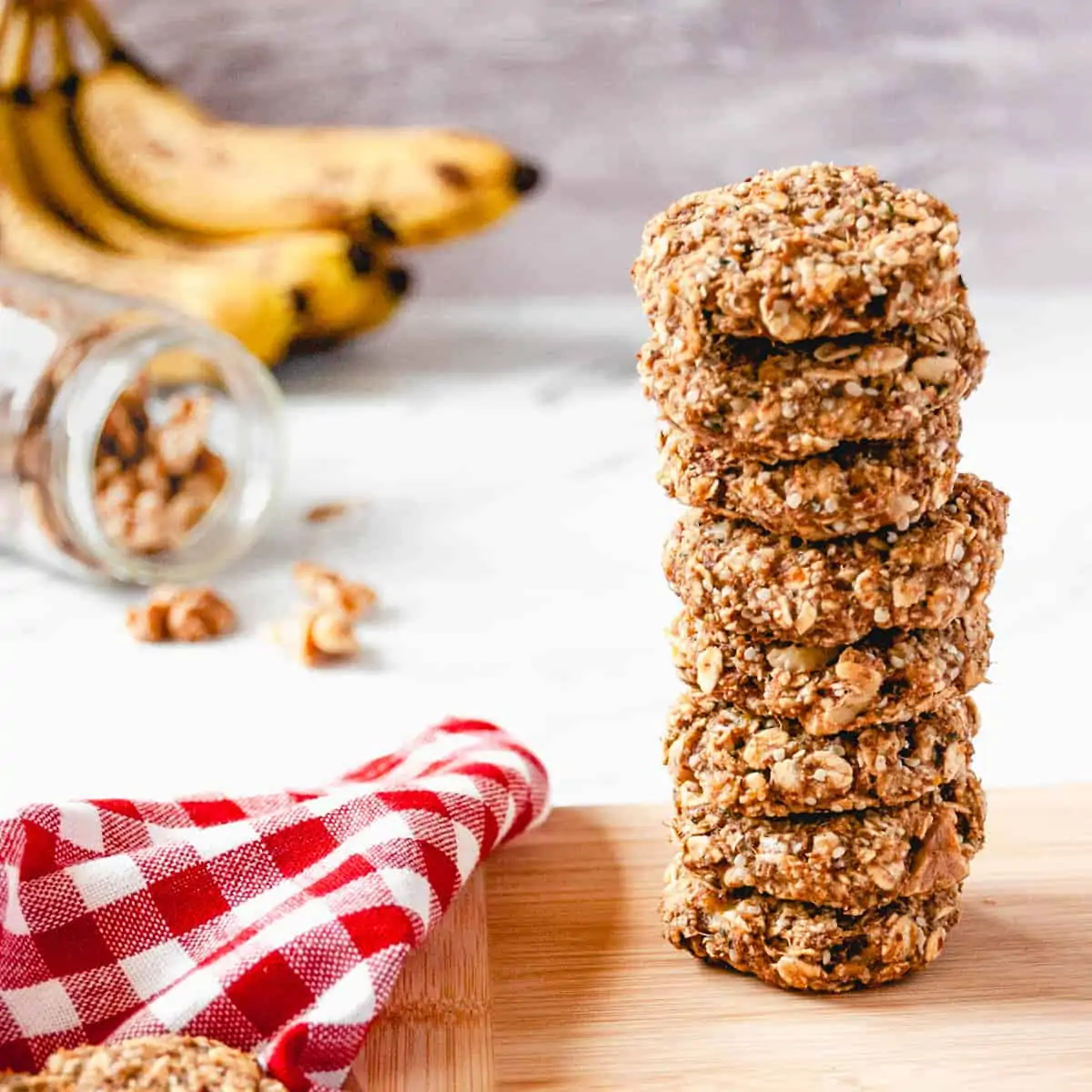 Cookies that are healthy enough to eat for breakfast? YES! These cookies are really that healthy – naturally sweetened with bananas and packed with oats, flaxseed, hemp hearts, and nuts.
Have them for breakfast, as a snack, or as a dessert. You really can't go wrong with these chewy, nutty, and easy banana cookies!
Recipe Highlights
Made with just a few inexpensive and pantry-friendly ingredients you probably have at home already, you can whip up these breakfast cookies on short notice whenever a baked goods craving strikes. (In fact, you can have them in your belly in less than 30 minutes. 🥳) More of a planner? These cookies also store well in the refrigerator for up to a week.
These banana oatmeal cookies are vegan, dairy-free, refined sugar-free, and gluten-free (just be sure to purchase gluten-free oats).
They're also:
Chewy
Subtly sweet
Quick
Low in calories and sugar
Not too banana-y
Naturally sweetened
Filled with superfoods
Made in one bowl! 🥣
This is a seriously simple recipe that yields a cookie with lots of texture. Though we're only using a few ingredients and no leavening agents, the cookies hold their shape perfectly and aren't crumbly at all.
While there are a lot of 2 ingredient banana oatmeal cookies out there, this version is even more delicious thanks to a few extra vegan-friendly ingredients!
Ingredients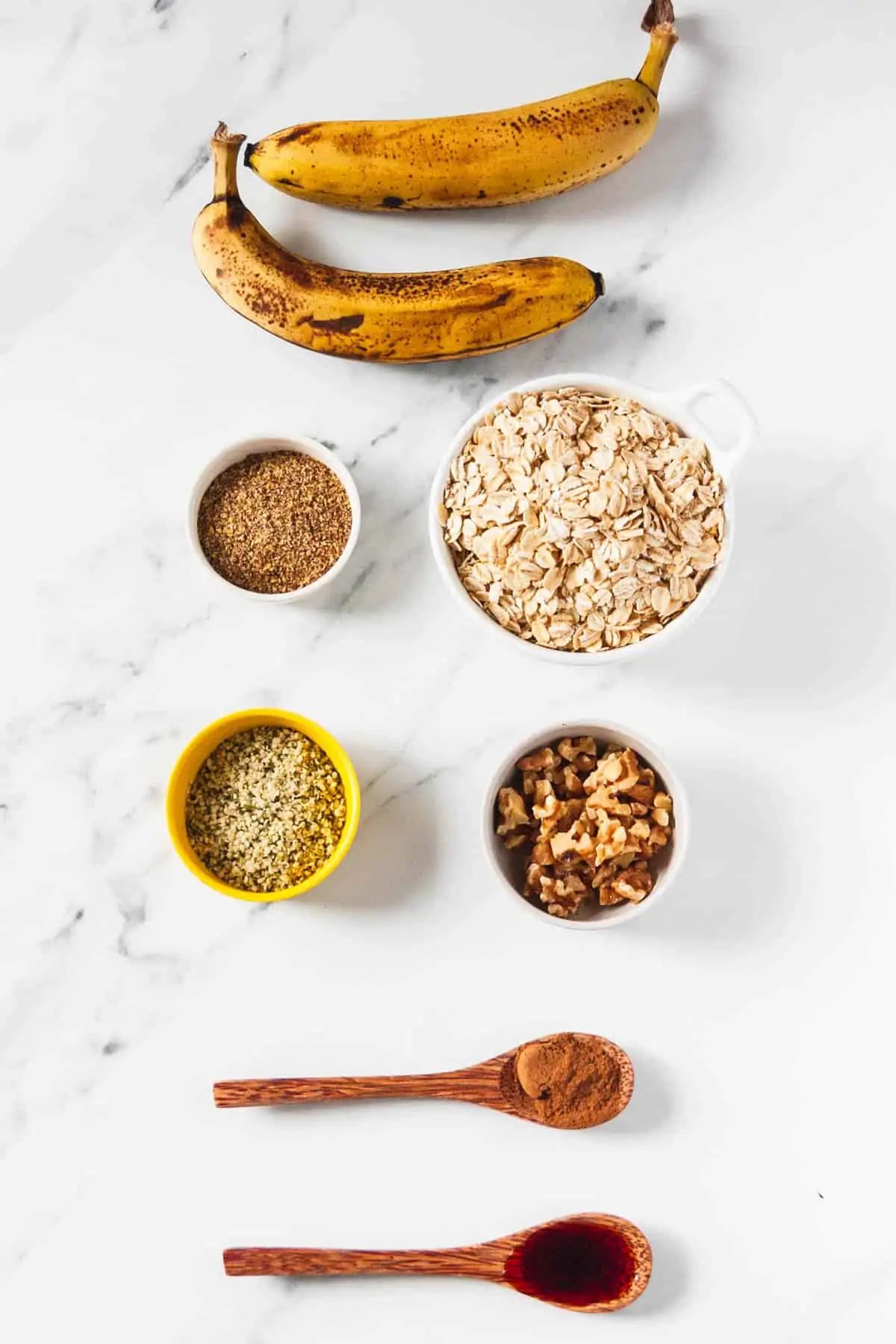 Oats: Oats are the base of these yummy cookies. They're inexpensive, a great source of soluble fiber, and may also help lower blood pressure. Choose oats that are labeled rolled or old-fashioned for this recipe. (I prefer to buy organic oats to try to avoid glyphosate.)
Bananas: We're using overripe bananas to flavor these cookies. The perfect natural sweetener, overripe mashed bananas contain healthy fiber and vitamins and provide moisture in this recipe.
Ground Flax: A healthy super seed, flax contains omega-3s and more lignans than any other food. Ground flax also has great gelling properties and helps these cookies stay together with nary a crumble.
Hemp Hearts: Another great super seed, hemp hearts provide texture, omega-3s, and plant-based protein.
Walnuts (or Pecans): Did you know that walnuts seem to be the healthiest type of nut? They're also pretty inexpensive, compared to, for example, my beloved pecans. Either nut works great here.
Ceylon Cinnamon: A great flavor enhancer, cinnamon is perfectly at home in these cookies. (The cinnamon helps cover up the banana flavor too.) I've specified Ceylon cinnamon because it has proven health benefits, but you may use whichever type you have on hand.
Vanilla Extract: This really helps tone down the banana flavor. Vanilla extract also helps make these cookies taste more like a traditional baked good.
Salt: This is optional and you may omit it if you follow a very low sodium diet. However, a bit of salt really helps make the cookies pop!
Instructions
These healthy cookies are simple, delicious, and only subtly banana-y. You'll need 1 bowl, 7 ingredients, and less than 30 minutes from start to finish.
Here's what you'll do to make banana nut oatmeal cookies (for different variation ideas, see the next section):
Add half a cup of oats to a blender or food processor.
Blend well until your oats resemble flour. (Don't worry if your flour isn't finely ground. This is meant to be a chunky cookie anyway.)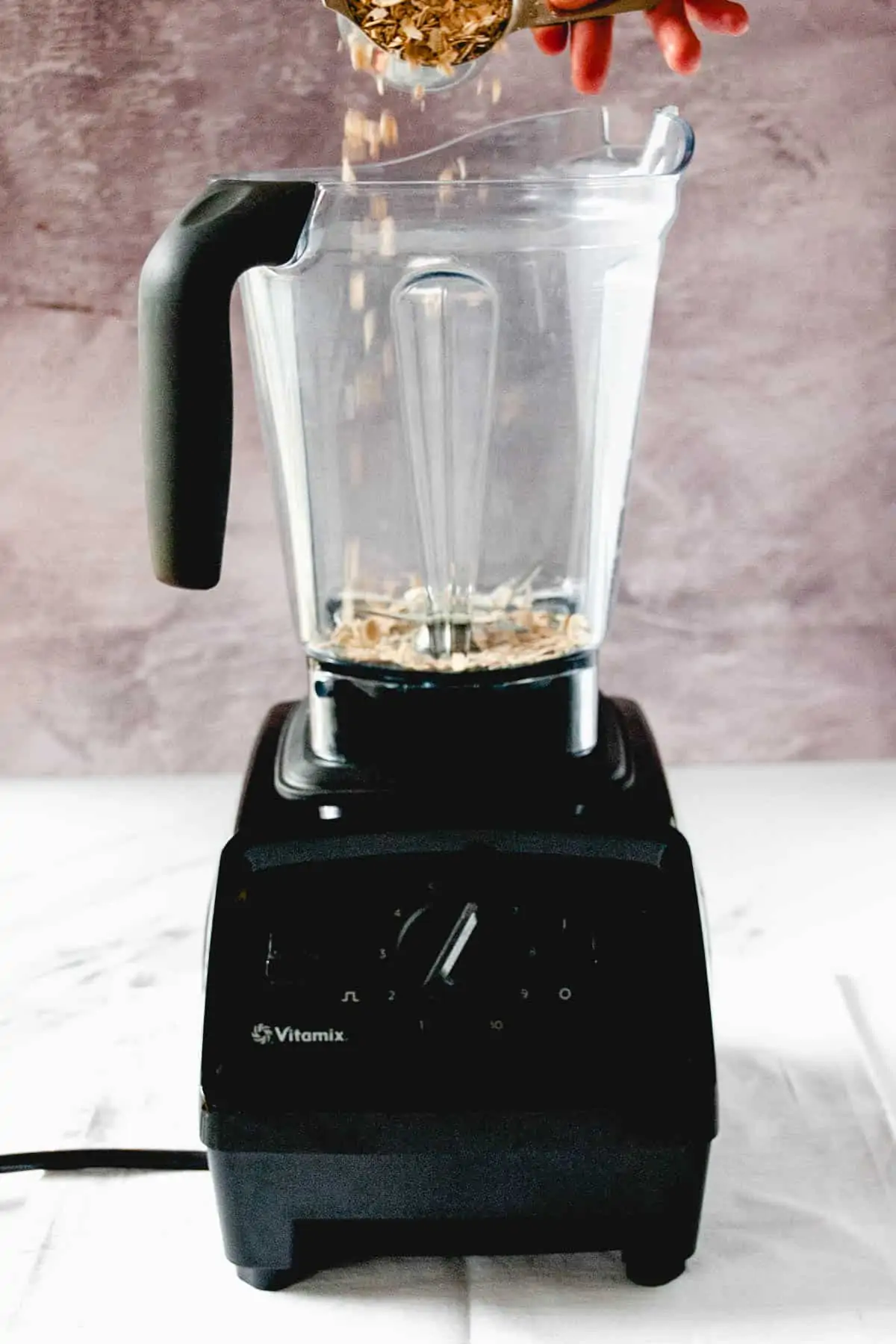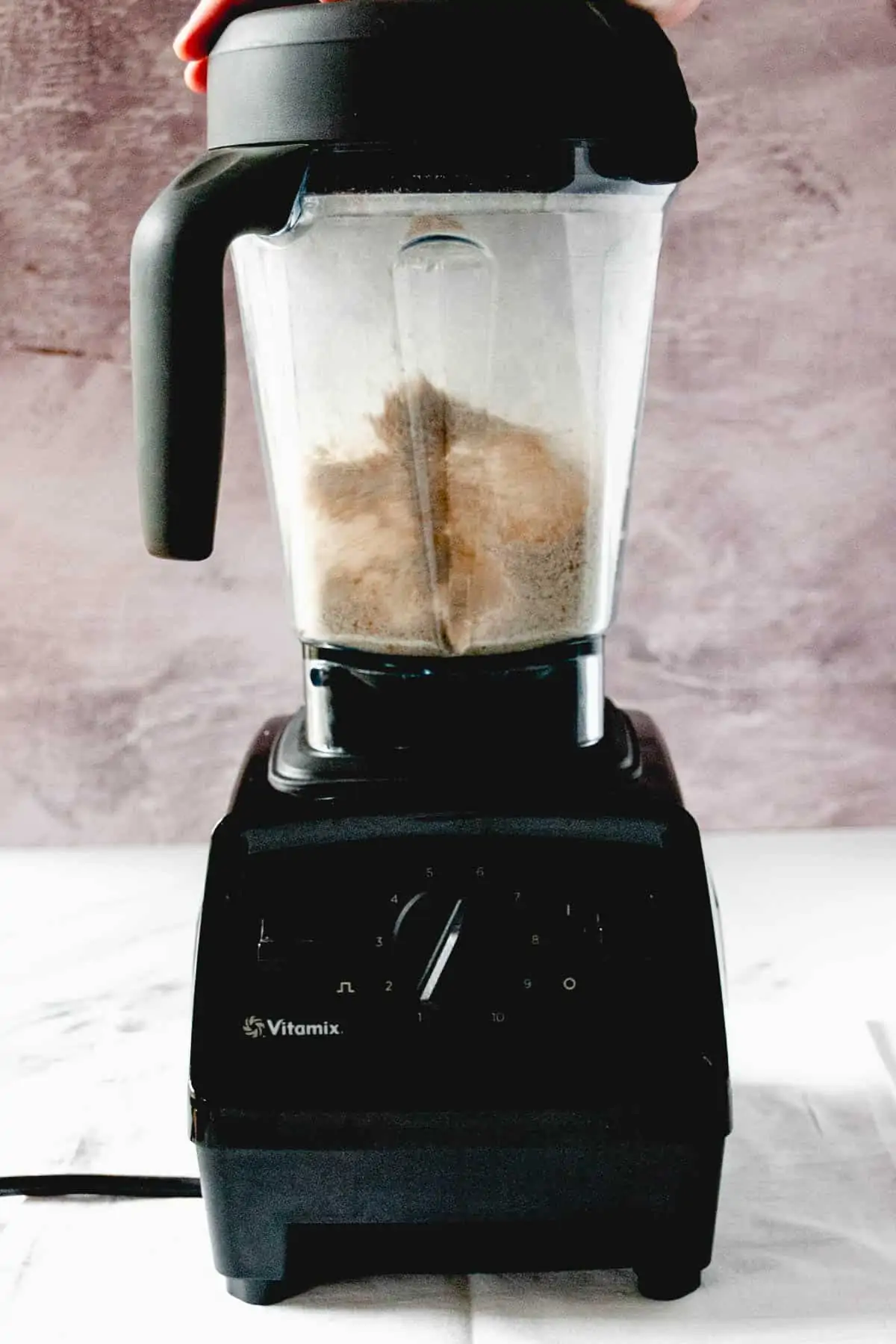 Add your overripe bananas to the bottom of a medium mixing bowl.
Mash the bananas with the back of a fork until mostly smooth (some lumps are okay). Shoot for 1 cup of mashed banana for best results.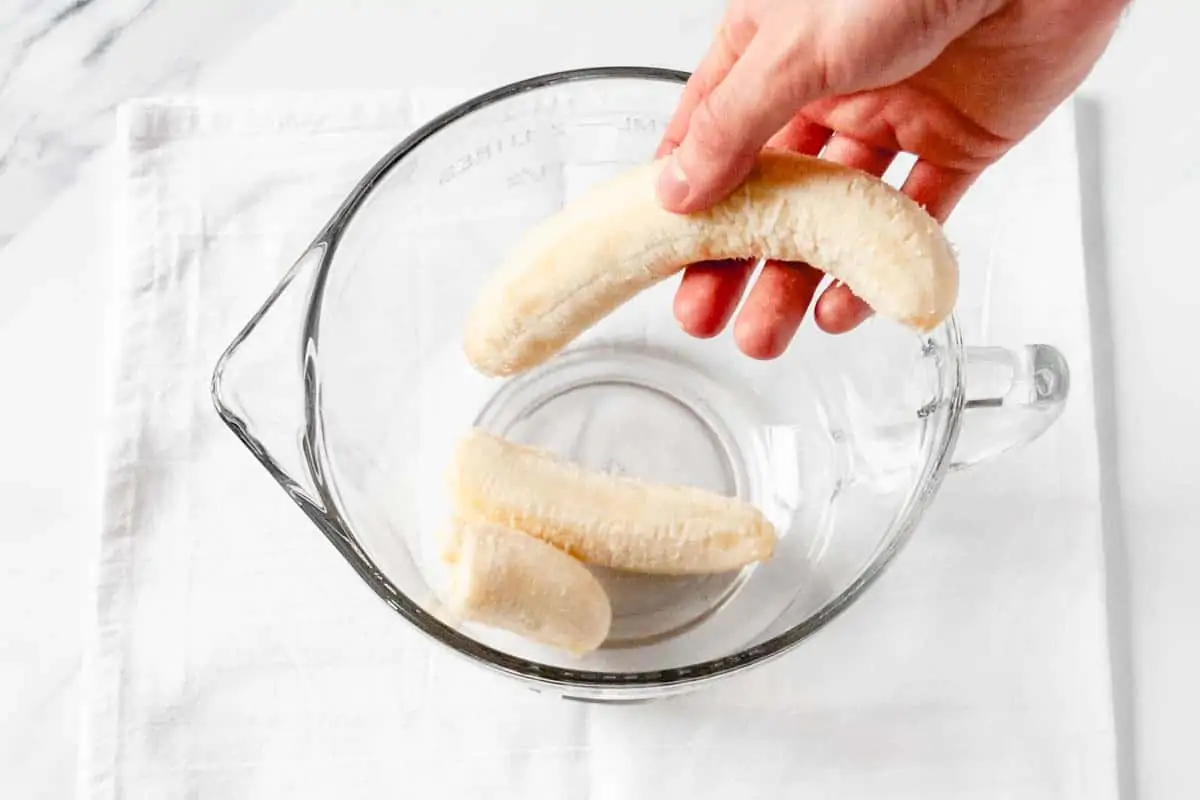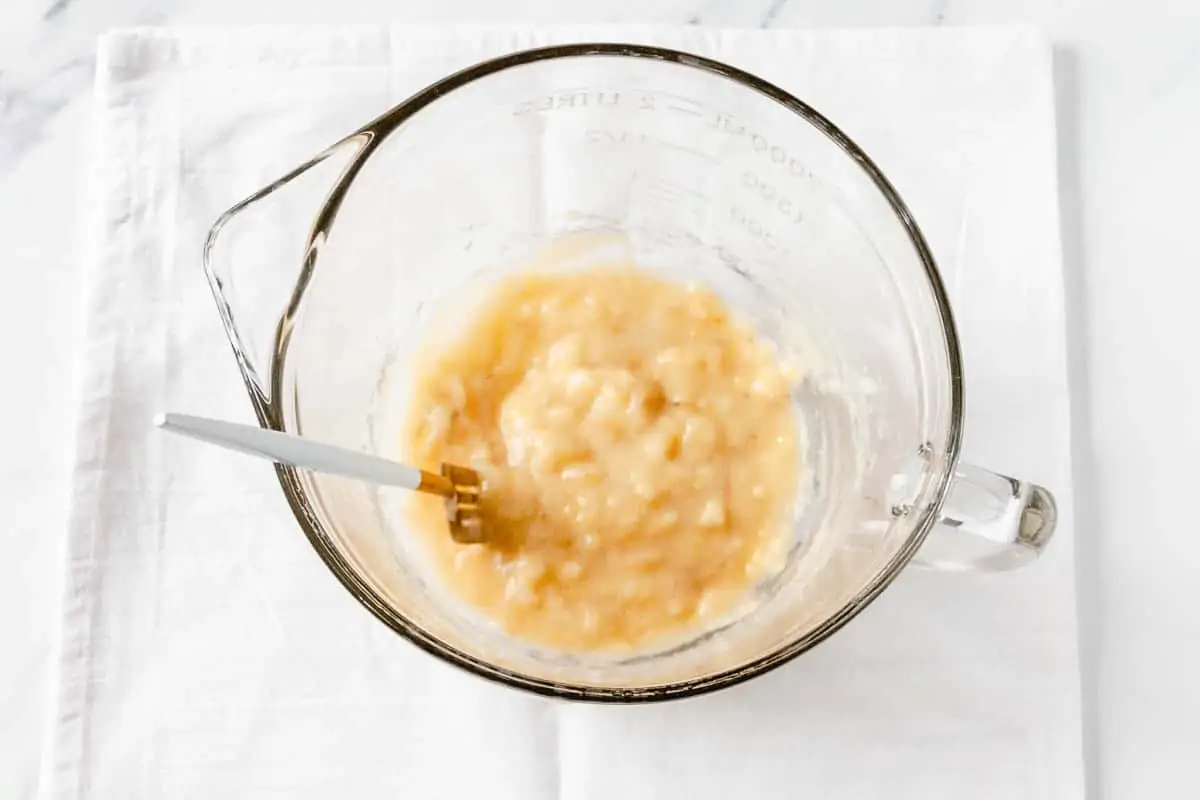 Add oat flour, walnuts, and all other ingredients to your mixing bowl full of mashed bananas.
Mix well to combine all ingredients. Then prep your baking sheet with a silicone mat or parchment paper.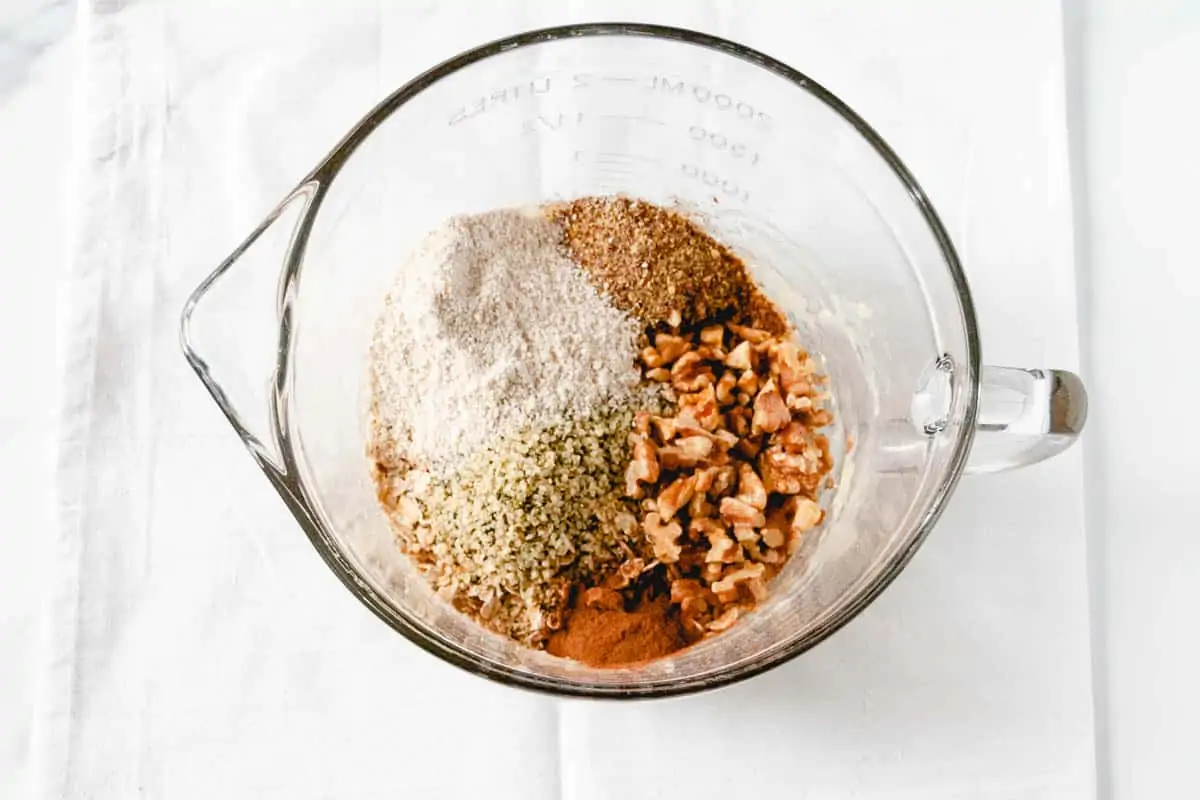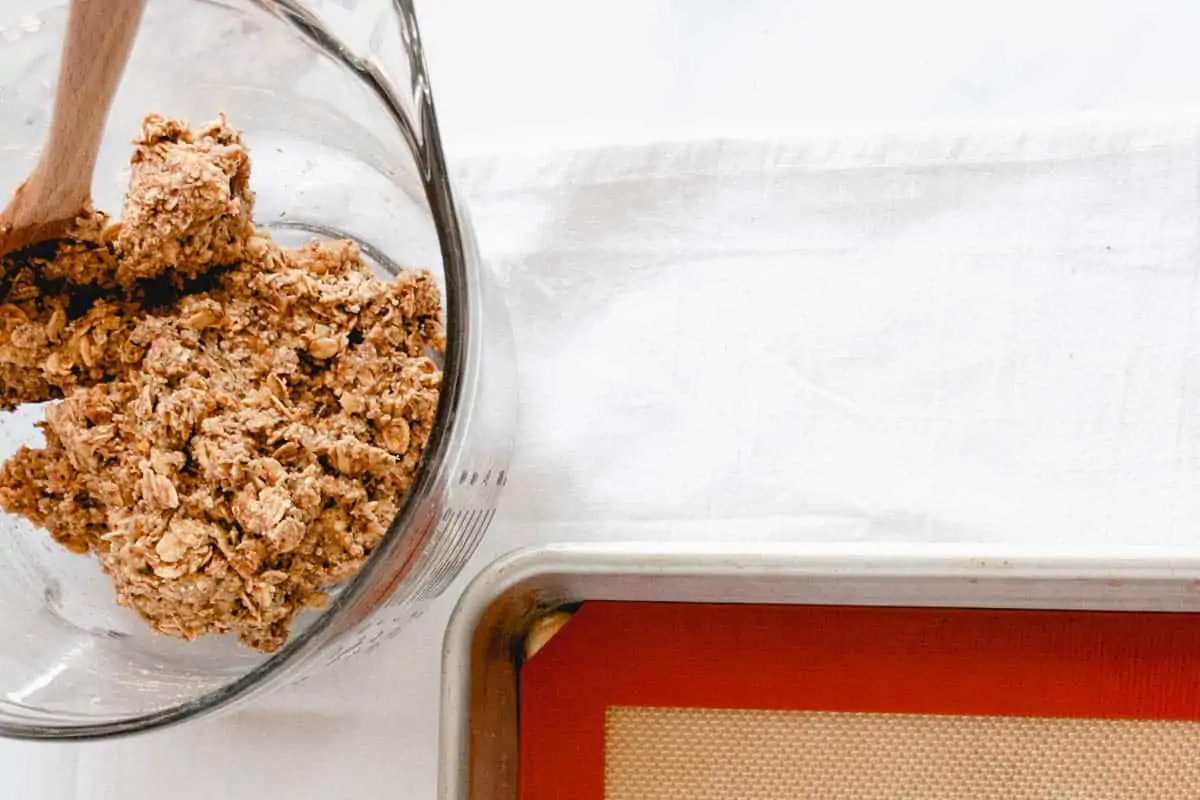 Use your fingers to shape the cookies into your preferred shape. The dough will be pretty sticky, but stick with it! 😉 You should get right around a dozen cookies, but that number will vary depending on the size and shape you choose.
Place your shaped cookies onto your lined baking sheet. Pop the baking sheet in the oven to bake. Then enjoy the cookies of your labor! 🍪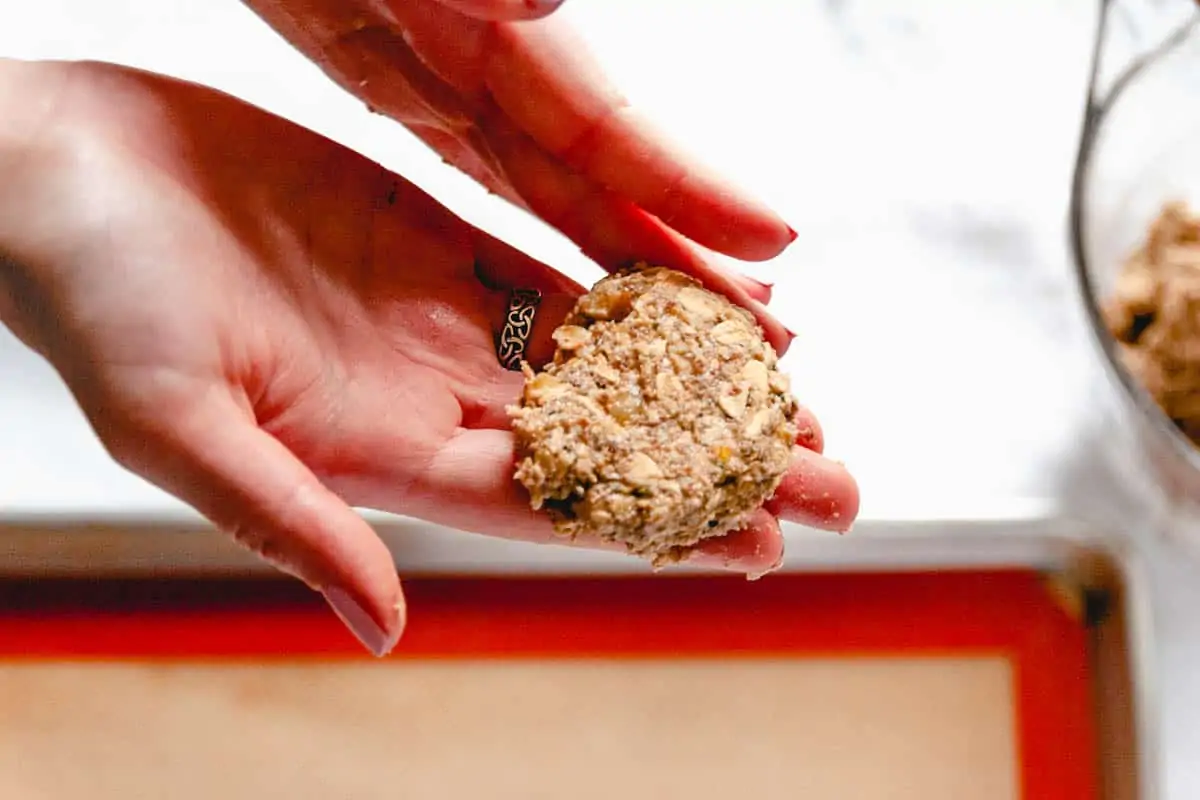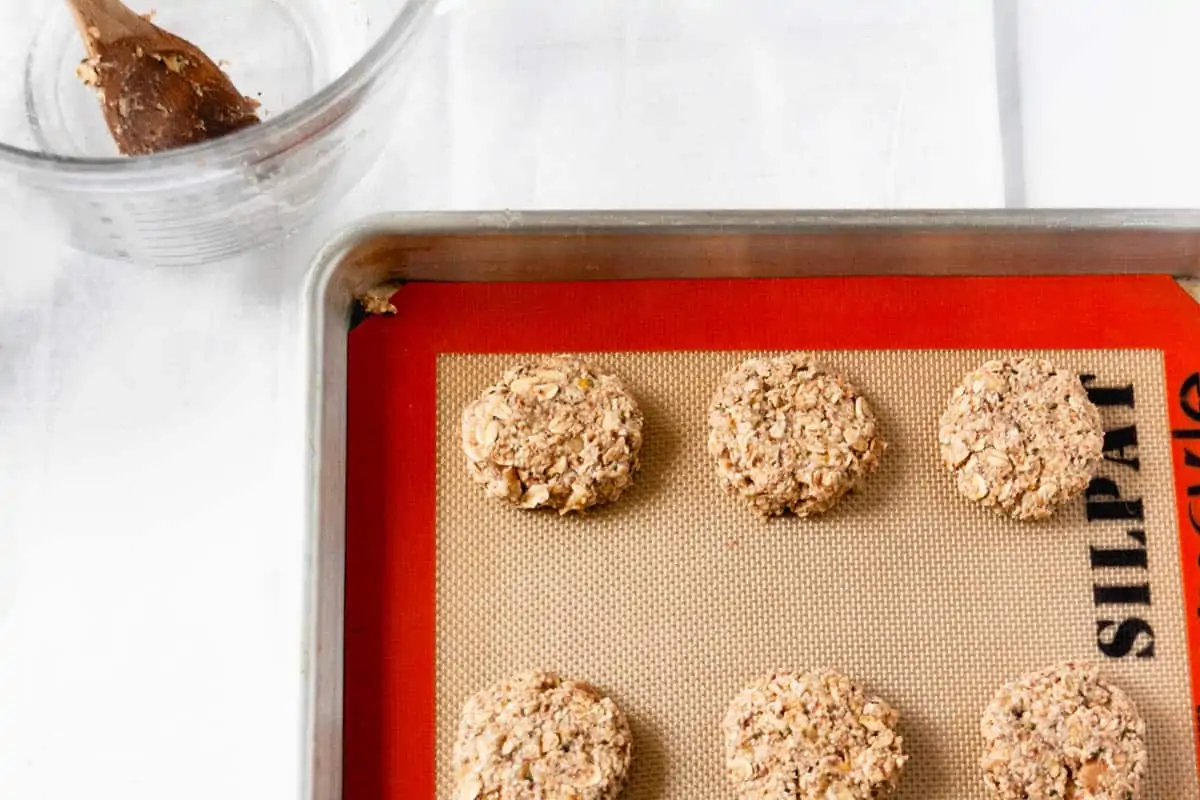 Variations
Nuts: I typically make banana walnut oatmeal cookies by using 1/4 cup of chopped walnuts, as detailed in the recipe card.

Pecans are my favorite nut to include, though, since they have a great maple flavor. Simply substitute the walnuts for 1/4 cup of pecans for a banana pecan cookie.

Many other chopped nuts or seeds of your choice will also work. Just be careful with ground flax or chia seeds, since they'll change the cookies' moisture.

Raisins: Oatmeal raisin cookies are a classic for a reason. Add 1/4 cup of raisins to these cookies to amp up their natural sweetness.
Chocolate: To keep these whole-food, plant-based, add 1/4 cup of raw cacao nibs for a great chocolaty version. Adding cacao nibs leads to a cookie that's not too sweet, but still satisfies a chocolate craving.

For a more traditional cookie, you can add 1/4 cup of chocolate chips (or up to a 1/2 cup) for an oatmeal chocolate chip cookie. Ensure your chocolate of choice is vegan and gluten-free, if necessary.
Note: These plant-based breakfast cookies are sweet enough for me. However, their sweetness will vary depending on the ripeness and size of your bananas. If you're looking for a sweeter cookie, add raisins or chocolate chips, as outlined above. You could also add chopped dates or another sweetener of your choice during the mixing process.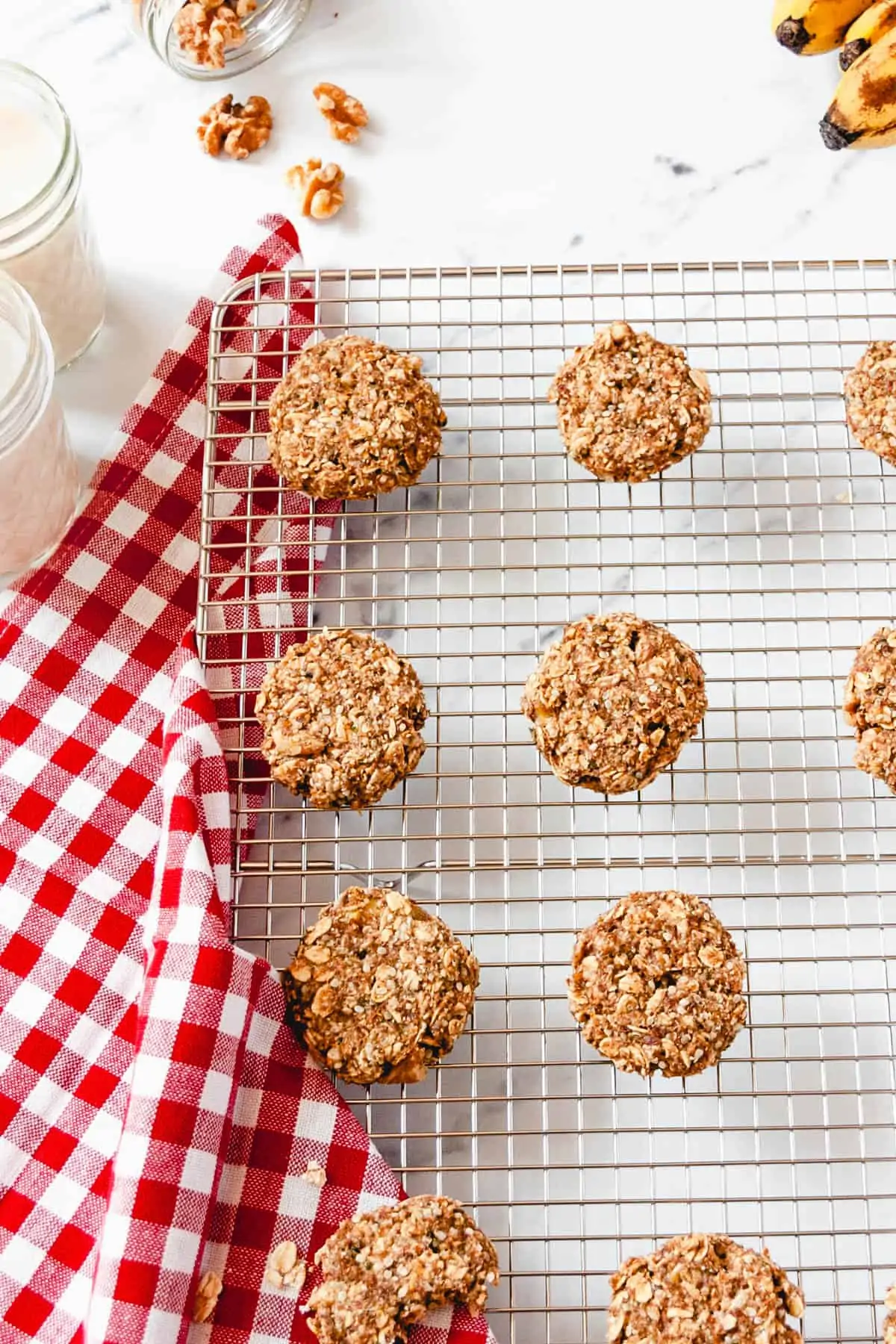 Tips
I recommend blending up some of the oats in this recipe, as outlined in the recipe card. Using homemade oat flour really helps to get a more cookie-like texture.
This cookie "dough" is pretty wet. You might be tempted to add additional whole oats so it's not as sticky. However, these cookies bake up great as-written! (You can add up to 1/4 cup of additional whole rolled oats if you strongly prefer. However, multiple tests with larger quantities than that led to a tougher cookie.)
The perfect amount of banana for these cookies is 1 cup. You'll need approximately 2 medium-large bananas or 3 small bananas to yield 1 cup of mashed banana.
The spottier your bananas, the sweeter your cookies!
Use a silicone baking mat or parchment paper to avoid sticking to the pan.
These cookies won't spread much when baking. Tuck and shape them into the cookie shape you want before putting them in the oven.
Storage
These cookies are delicious right out of the oven! However, they also store really well. Once cool, store your cookies in an air-tight container. Store them for 2-3 days on your countertop, or for up to a week in your fridge.
If storing in the fridge, eat them cold (they'll be a little extra chewy), let them come to room temperature, or microwave them for about 10 seconds. Perfect with a glass of non-dairy milk or a cup of tea for a yummy and healthy snack. 🍵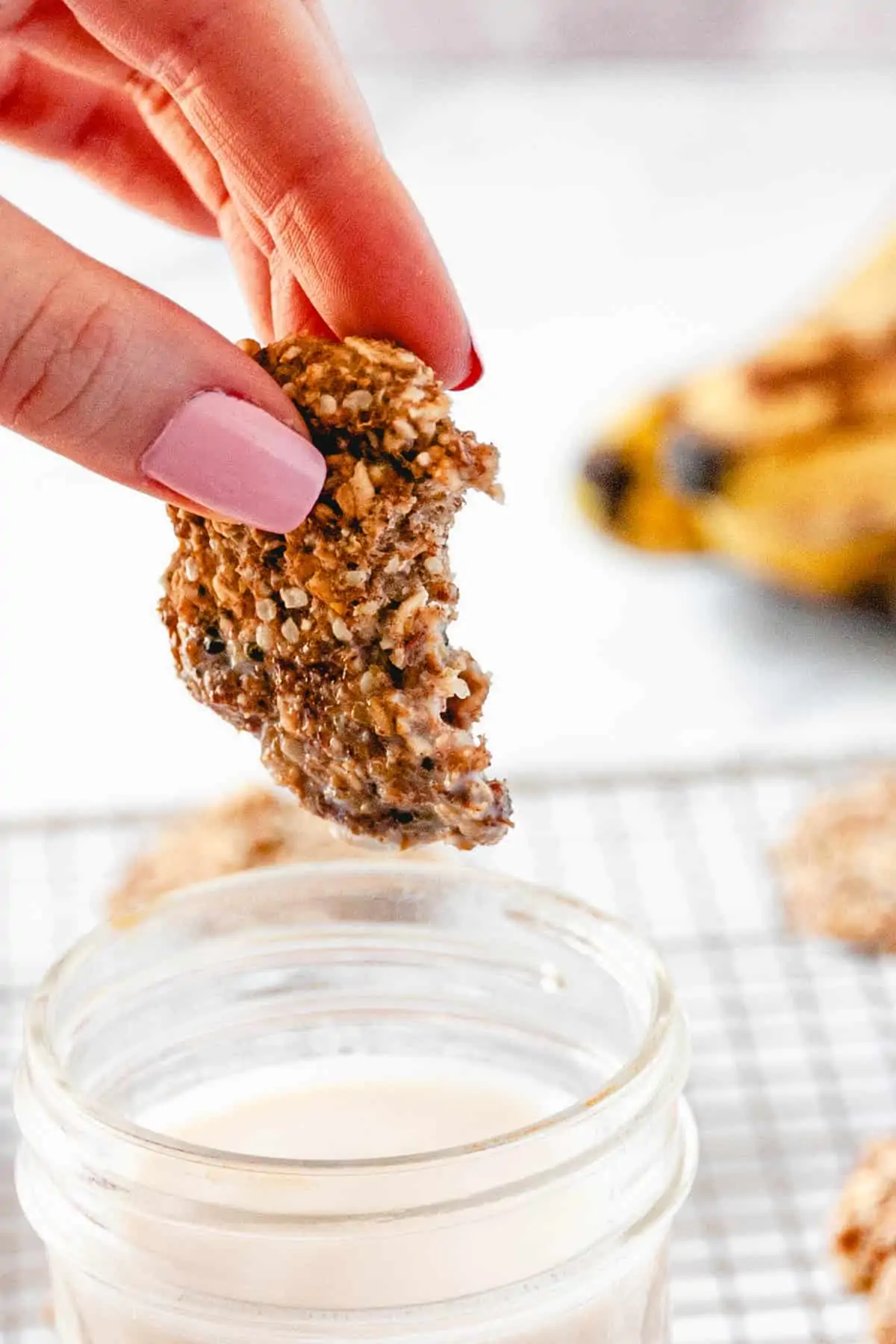 Common Questions
What kind of oats are best for cookies?
Look for oats that are labeled "old-fashioned" or "rolled" for this recipe. Instant oats are very fine and won't hold up well enough to form a solid cookie. On the other hand, steel-cut oats are simply "cut" whole oats and are very firm. Old-fashioned oats are oats that have been "rolled" or flattened. They're a great multipurpose oat and work well for most things. They're the Goldilocks of oats. 👱‍♀️
Are oatmeal cookies unhealthy?
Sadly, some oatmeal cookies are unhealthy. These vegan banana oatmeal cookies, however, are extremely healthy! Oats contain important vitamins, minerals, and antioxidants, as well as fiber, protein, and iron. ✅ In addition, these cookies are made without added sugar and are naturally sweetened with bananas. ✅ Finally, these cookies are packed with superfoods like flax, hemp, and Ceylon cinnamon. ✅ So healthy you can eat them for breakfast! 👍
Is vanilla extract gluten-free?
Yes! Take a look at the ingredients in your particular brand, of course, just in case. But distilled alcohol (even when it's been distilled from grains) is considered gluten-free.
Why aren't my cookies sweet?
If your bananas weren't very ripe (basically more brown than yellow), they were not at peak sweetness. If you didn't measure out 1 cup of mashed banana, it's also possible the bananas you used were on the smaller side. However, if you followed the recipe and used 1 cup of very ripe mashed banana, then you are probably not used to low sugar/naturally sweetened baked goods. (See next question!)
How can I make my cookies sweeter?
Add chopped dates, raisins, chocolate chips, or another sweetener of your choice during the mixing process.
Helpful Tools for this Recipe
Similar Recipes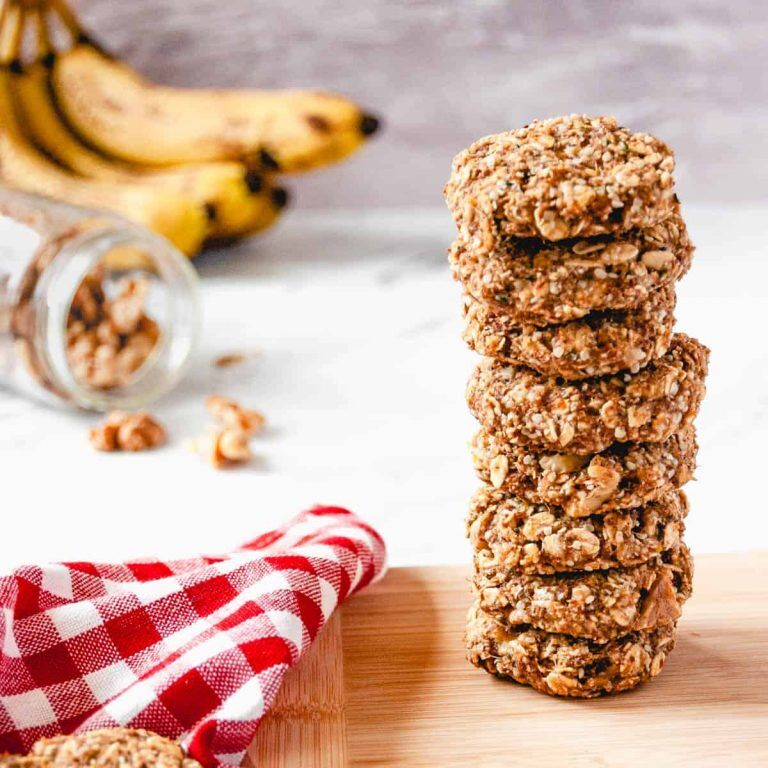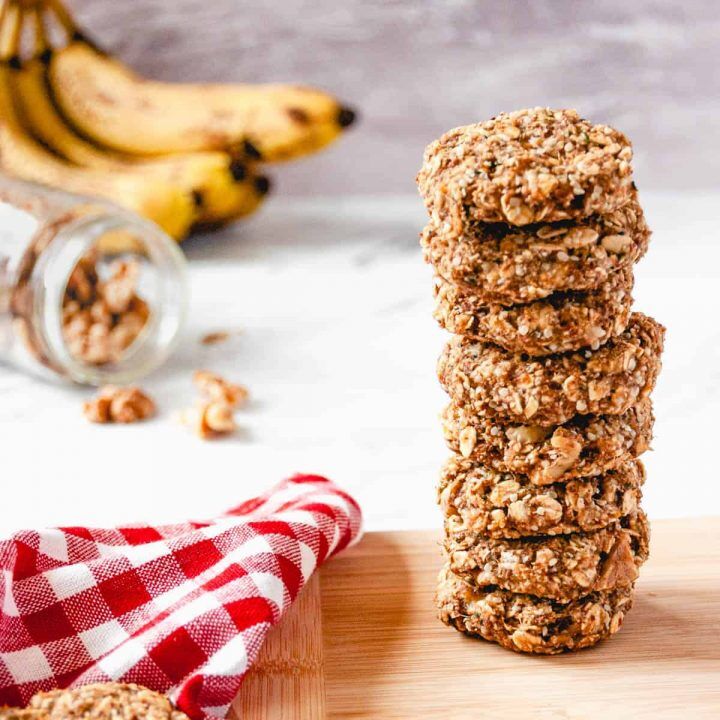 Vegan Banana Oatmeal Cookies
These Vegan Banana Oatmeal Cookies are a fast and easy superfood treat. They're simple to make, store well, and are healthy enough to eat for breakfast! These plant-based cookies are the perfect baked good to keep on hand. 🍪
Ingredients
1 cup mashed banana (from approximately 2 medium-large spotty bananas)*
1/4 cup chopped walnuts
1 teaspoon Ceylon cinnamon
1 teaspoon vanilla extract
1/4 teaspoon kosher salt
Instructions
Start by preheating your oven to 350 degrees Fahrenheit.
Meanwhile, blend 1/2 cup of rolled oats into flour, using a blender or food processor. Set aside.
To a medium mixing bowl, add two overripe and very spotty bananas. Mash well with a fork.
Add your blended oat flour, nuts (or other add-ins of choice), and all remaining ingredients to your mixing bowl.
Stir well to combine, making sure all dry ingredients are well incorporated.
Once mixed, shape your dough into 12 cookies, using your fingers.
Place cookies on a baking sheet lined with a silicone baking mat or parchment paper.
Bake cookies for 12-15 minutes until lightly golden. Allow to cool for a few minutes before enjoying.
Notes
Bananas: The perfect amount of banana for these cookies is 1 cup. You'll need approximately 2 medium-large bananas or 3 small bananas to yield 1 cup of mashed banana. The spottier your bananas, the sweeter the cookies!
Wet Dough: This will be a wet dough. However, the cookies firm up nicely in the oven and become tender and chewy.
Variations: Try substituting the walnuts for different nuts of your choice. For additional flavor and sweetness, add 1/4 cup of cacao nibs, chocolate chips, or raisins when mixing.
Storage: These cookies can be kept in the refrigerator for up to a week or on the counter for 2-3 days.
Nutrition Information:
Yield:

12
Serving Size:

1 cookie
Amount Per Serving:
Calories:

103
Total Fat:

4g
Saturated Fat:

.5g
Trans Fat:

0g
Cholesterol:

0mg
Sodium:

49mg
Carbohydrates:

14g
Fiber:

2g
Sugar:

3g
Protein:

3g
Nutrition information is an estimate only, based on the recipe as written. Nutrition information does not include any optional add-ins. Data was obtained through MyFitnessPal's recipe creator.
The Background & Science Behind These Ingredients
What do you think?
Thanks so much for stopping by! If you make this recipe, then please leave a comment and rating. I would love to hear what you think and how it worked out for you!
If you're looking for more delicious oat recipes, then you must try my banana cinnamon overnight oats! (They're even easier than this recipe. 😲) For more healthy breakfast ideas, see all of my breakfast recipes!