This One-Pot Cauliflower & Red Lentil Curry is going to be your new favorite weeknight meal! It's super healthy, no fuss, and so satisfying. Chop some veggies, rinse some dried lentils, and let everything simmer away on the stovetop. Dinner is served!
---
This is my current go-to recipe. It's perfect for when you haven't made plans for dinner, you're hungry, and it's 6 PM. 🙂
This curry is exactly what you need if you want a comforting, nourishing meal without too much fuss. It's super healthy and anti-inflammatory, thanks to the cauliflower, red lentils, and spices. It also makes a nice big batch, perfect for leftovers. Win for today, AND win for tomorrow.
It's so important to fuel your body the right way with the right foods, but it can be hard to find the time. Thankfully, there are ways to make a whole-food, plant-based diet sustainable. One of those ways is having ready-to-eat, batch cooked meals in the fridge. Whip up this One-Pot Cauliflower & Red Lentil Curry today and get ready to thank yourself tomorrow!
Is this an Authentic Curry?
Hmm…probably not! This recipe falls somewhere between dal, curry, gulpea, and aloo gobi. I've taken my absolute favorite parts of each dish and synthesized them into this fabulous, weeknight-friendly, pantry-friendly recipe.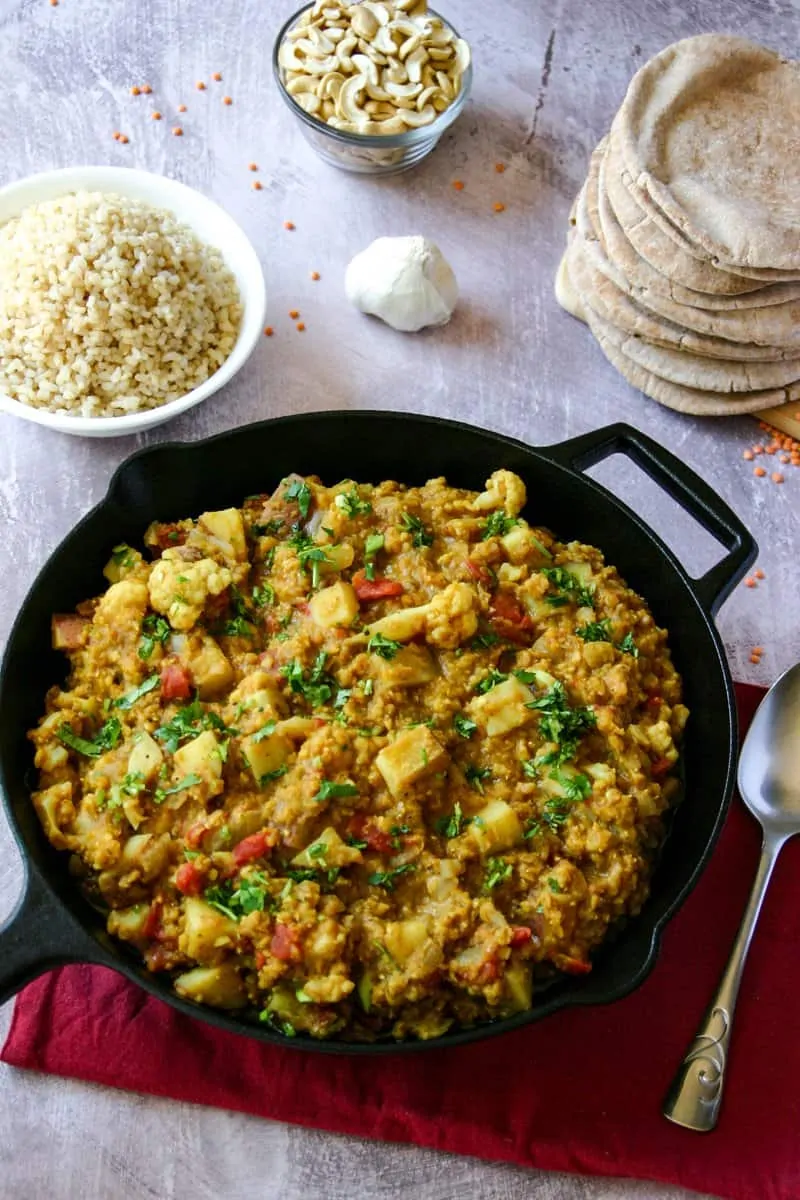 This curry is spiced, but not spicy. It's creamy, but not coconut-y. It's flavorful, but not oily. And the pièce de résistance: the tender chunks of potatoes and cauliflower that melt in your mouth. SO. GOOD.
This dish is completely delicious, quite easy, and extremely economical. It requires just one cutting board, one pan, some basic (read: easy to find) ingredients, and a handful of flavorful spices. Let's take a closer look at the recipe!
What's Special About this Cauliflower & Red Lentil Curry?
There's NO coconut milk!
There's also no cashew cream
No vegan butter
No vegan yogurt
AND no oil!
Does that mean it requires a homemade or store bought curry paste? Also nope!
A lot of vegan curry dishes can be complicated. They require lots of specialty ingredients, specific types of hot peppers, lots of oil, or not-so-healthy butter/dairy substitutes. This recipe is nothing like that!
This Red Lentil Curry is a delicious, pantry-friendly recipe that's perfect for weeknights. All of the vegetables and spices can be found easily in your local supermarket. In fact, many of these items are probably already in your pantry!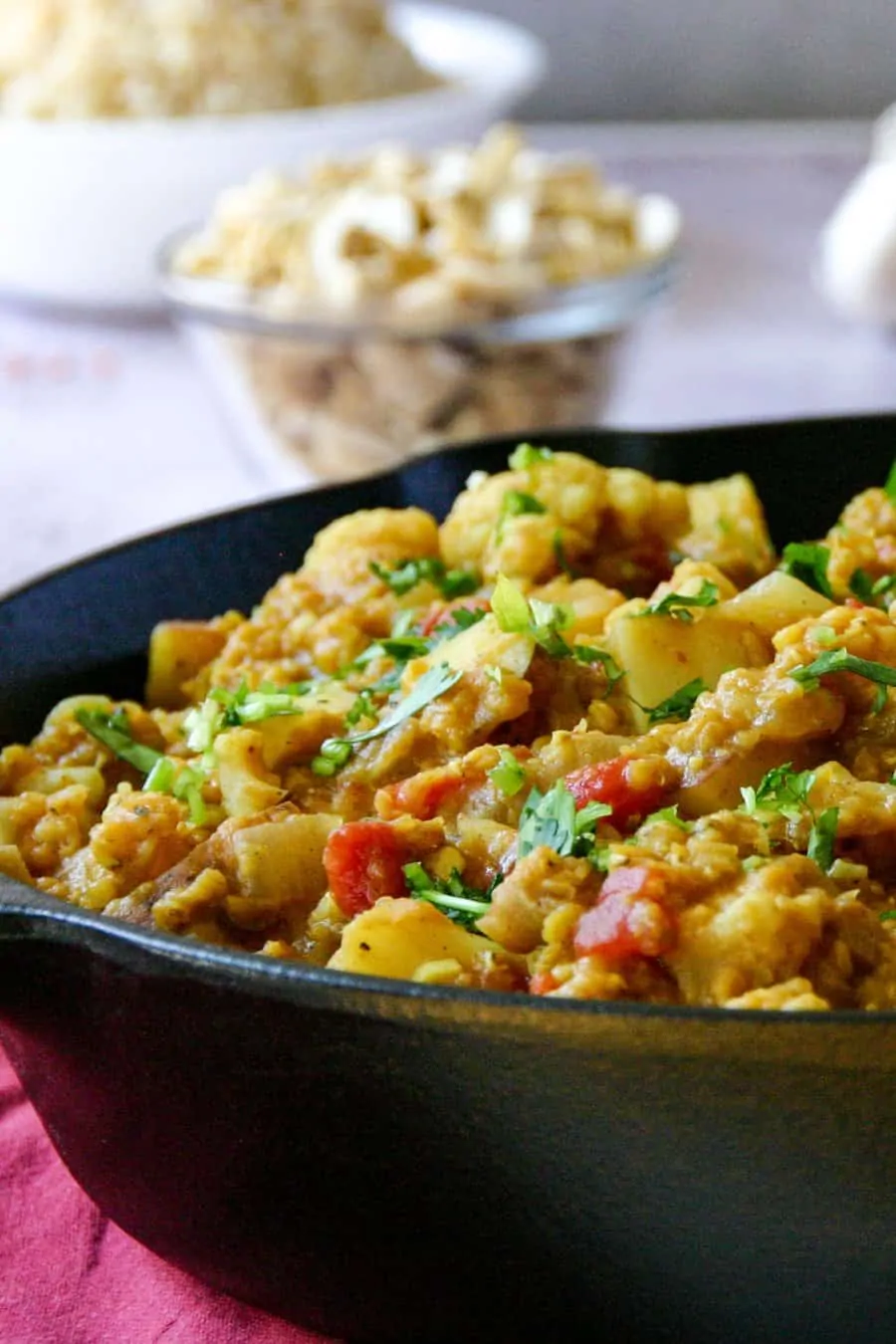 If you've never cooked with dried beans or legumes before, I urge you to try this recipe. Red lentils are the perfect entry into the world of dried legumes because they don't require soaking, cook up in no time at all, and get thick and creamy all on their own! Lentils are also super healthy. They contain high amounts of fiber, protein, and iron. They also contain zinc, magnesium, a variety of B vitamins, and much more.
About The Ingredients
I love this recipe because it's something that I can whip up with items I almost always keep at home. If you've got a head of cauliflower in the fridge, and a well-stocked spice cabinet, then this recipe is easy to throw together at a moment's notice.
These ingredients can all be found readily at the supermarket. You won't need to track down a particular type of curry powder/paste or any vegan dairy substitutes. If you're having trouble finding lentils at your local grocery store, though, be advised that they are sometimes in the international food aisle, rather than the general bean aisle.
Red Lentils: These are the star of the show. Red lentils are typically "split", and they cook up extremely quickly. They're the reason this recipe works so well without oil, dairy substitutes, coconut milk, etc. Red lentils fully break down when cooked and become thick, creamy, and super comforting.
Cauliflower: A nutritional powerhouse, this cruciferous vegetable looks totally unassuming! But don't be fooled: it is high in antioxidants, just like its vibrant green cousin, broccoli. In this dish, the cauliflower becomes perfectly soft and tender and takes on all of the flavor from the spices. Chop it first to allow the sulforaphane a chance to work its magic.
White Potatoes: I love white potatoes. They will always spell c-o-m-f-o-r-t for me. As long as you aren't frying potatoes at high temperatures, they have a place in a healthy diet. (Thank goodness!) Buy organic and leave the skin on for a bit more fiber and nutrition.
Diced Tomatoes: They help to make the sauce, and add umami and richness. They also contain vitamin C, which helps you to better absorb the plant-based iron that red lentils provide. Look for a brand that is BPA-free.
Onion & Garlic: I don't need to tell you how tasty and healthy onions and garlic are! They're the base of pretty much every recipe for a reason.
Low-sodium Vegetable Broth: This adds another layer of flavor to the curry. I am partial to this dried broth seasoning that I constitute with water, but any broth will work.
Spices: This recipe is packed with spices, including cardamom, cayenne, cinnamon, coriander, cumin, garam masala, and turmeric.

If you do not have many of these spices on hand already, it can be expensive to buy them all at once at your regular grocery store. For this reason, if you need to stock up on multiple spices, you may want to try buying at local Asian markets or from Thrive Market instead. Thrive sells many of their spices for just $2.99! Here's a discount code for 25% off your first Thrive order.
Though the initial investment may be high, spices are some of the healthiest items you can incorporate into your diet and they'll last a while.
How to Serve this Vegan Red Lentil Curry
This One-Pot Cauliflower & Red Lentil Curry has a lot to offer already! It features protein-packed red lentils, plenty of vegetables (including cruciferous vegetables), and tons of anti-inflammatory spices. If you follow Dr. Michael Greger's Daily Dozen, this recipe checks a lot of the boxes!
To make this curry a meal, serve it over rice, quinoa, or any other grain of your choosing. It's also delicious over a cooked sweet potato or baby spinach. A side of whole-wheat flatbread, pita bread, or naan would also be on-theme. This curry isn't spicy, per se, but the heat does grow a bit after a few bites. Serving the curry over grains/with bread helps mellow things out, if you're sensitive to spice.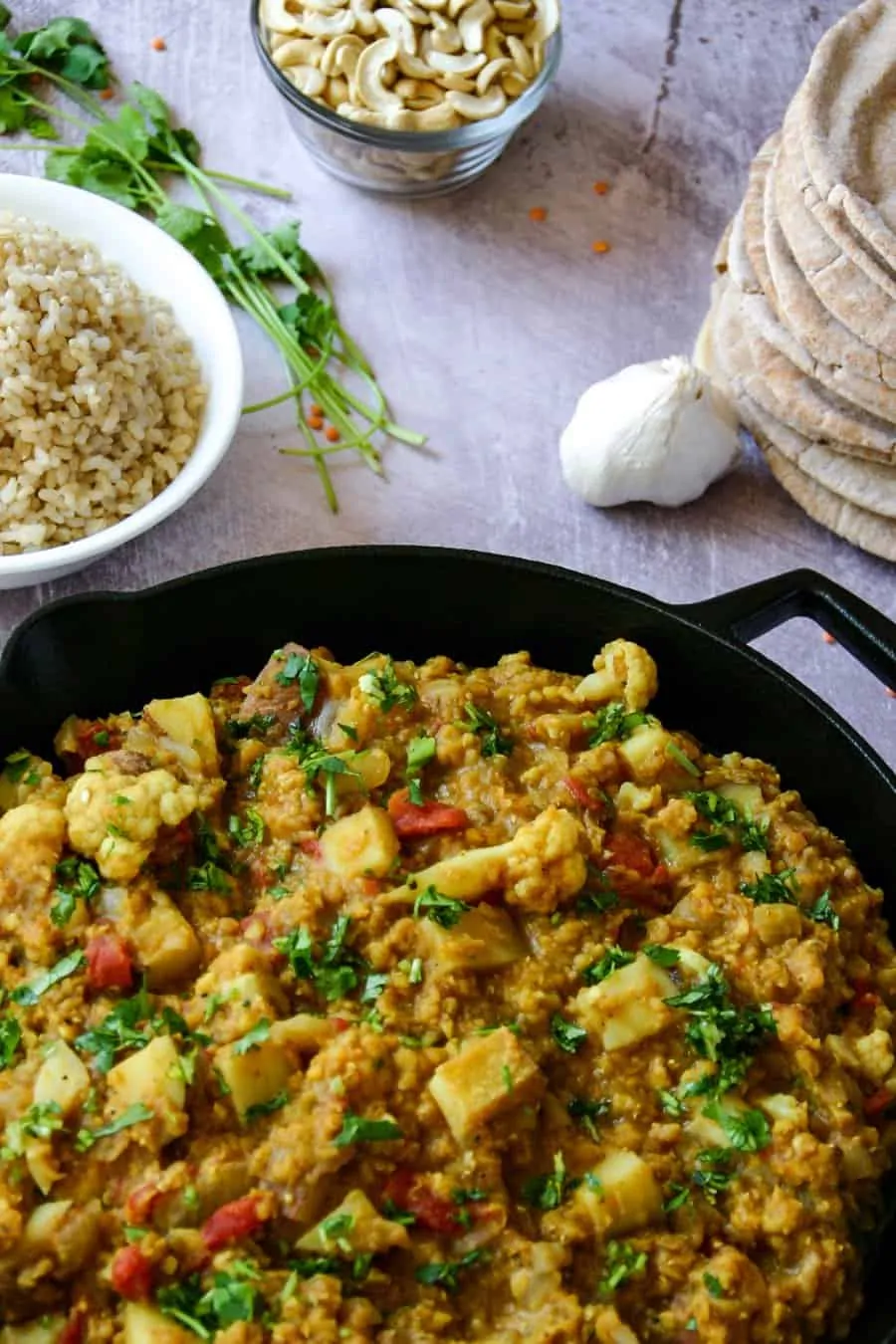 Topping Ideas
Raw cashews for added texture
Lime juice for a bit of zing
Green onions for crunch and flavor
Cilantro for color and freshness
A drizzle of tahini for creaminess
Hot sauce for added spice
LEFTOVERS & HOW TO STORE
This recipe makes a fairly large batch of curry. It's perfect for one-pot meal-prep, which is a huge selling point in my book!
Like many lentil recipes, this curry will thicken as it sits. To reheat, add a few splashes of water to loosen the curry up, if desired. Then reheat on the stove top or in the microwave, per your personal preference.
Having a go-to pantry recipe in your back pocket when the day gets away from you is priceless. I hope you love this recipe as much as we do!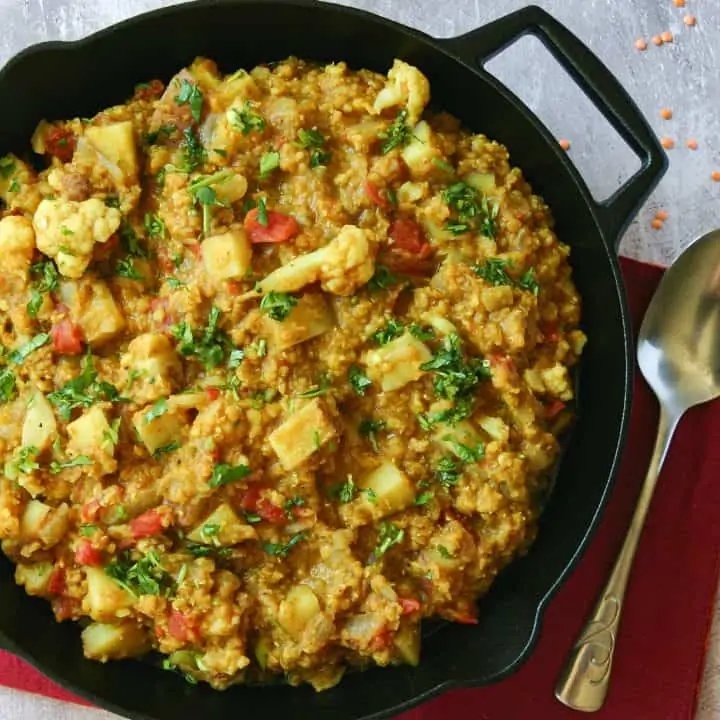 One-Pot Cauliflower & Red Lentil Curry
This One-Pot Cauliflower & Red Lentil Curry is going to be your new favorite weeknight meal! It's super healthy, no fuss, and so satisfying. Chop some veggies, rinse some dried lentils, and let everything simmer away on the stove top. Dinner is served!
Ingredients
1 large head cauliflower, chopped into bite-sized pieces
2 medium white potatoes, cubed (no need to peel)
1 large onion, diced
3 cloves garlic, minced
1/2 teaspoon black pepper
1/2 teaspoon kosher salt
3 cups water
Optional toppings: cilantro, green onions, a squeeze of lime, chopped cashews, tahini, hot sauce
Instructions
Chop your cauliflower first and set it aside. Proceed with chopping the rest of your vegetables.
Next, gather your spices and mix them in a small bowl. Set aside.
Rinse your lentils thoroughly under running water and set aside.
Heat a large stainless steel skillet over medium heat and add a splash of water.
Add your onion and garlic to the pan. Allow to cook for about 3 minutes, stirring occasionally, until starting to soften. If the onions begin to stick to the pan, add another small splash of water.
Add your bite-sized pieces of cauliflower and potatoes to the skillet, stir, and allow to cook for another 3 minutes, stirring occasionally. Add another small splash of water if necessary to prevent sticking.
Add all spices to the skillet (cardamom, cayenne, cinnamon, coriander, cumin, garam masala, turmeric, salt, and pepper).
Stir the mixture vigorously for a minute or two to toast the spices and coat the vegetables.
Once everything is smelling fragrant, add the broth and scrape up any brown bits on the bottom of the skillet.
Add the lentils, diced tomatoes, and 3 cups of water to the skillet. Stir well.
Turn heat up to high and allow the mixture to come to a gentle boil. Once lightly bubbling, stir, reduce heat to medium-low, cover, and simmer for 25 minutes.
When the timer is up, stir well and taste. The potatoes, cauliflower, and lentils should be soft and creamy, but mostly intact. If you would like everything to break down a bit more, cover and cook for an additional 5 minutes.
Adjust seasonings to your preference, if necessary, and allow to sit for a few minutes in order to thicken up.
Serve this Cauliflower & Red Lentil Curry over a bed of rice, quinoa, or baby spinach. You may also top your dish with any of the optional toppings listed above, if desired. Leftovers will keep for up to a week in the fridge, with no loss of flavor.
Notes
Pan Choice: Use a stainless steel pan for easy oil-free cooking and cleanup. (Cooking oil-free in cast iron isn't recommended. Cast iron just photographs a lot better!) Note that this is a large recipe. If you don't have a large, deep skillet, you may want to use a Dutch oven instead.
Sorting Beans: All dried beans should be sorted and picked over before cooking. This just means laying them out on a surface and looking through them for stones, broken/misshapen beans, and anything that looks off.
Turmeric: This spice will stain light-colored surfaces, such as wooden spoons. Use a metal or dark-colored silicone utensil for stirring and serving to avoid this.
Substitutions: I recommend Ceylon cinnamon in this recipe because of its health benefits, but you may use the cinnamon you have on hand. If you don't have cinnamon, feel free to substitute powdered ginger with good results.
Note that the rest of the spices in this recipe are crucial. They contribute tons of flavor, and are hard to substitute. You could experiment with a combination of curry powder and garam masala, but I wouldn't recommend it.
Nutrition Information:
Yield:

8
Serving Size:

About 1.5 cups
Amount Per Serving:
Calories:

277
Total Fat:

1.3g
Saturated Fat:

0.1g
Trans Fat:

0g
Cholesterol:

0mg
Sodium:

320mg
Carbohydrates:

50.4g
Fiber:

18.6g
Sugar:

5.4g
Protein:

16.3g
Nutrition information is an estimate only, based on the recipe as written. Data was obtained through MyFitnessPal's recipe creator.
THE BACKGROUND AND SCIENCE BEHIND THESE INGREDIENTS
What do you think?
Thanks so much for stopping by! If you make this recipe, then please leave a comment and rating. I would love to hear what you think and how it worked out for you!
Don't forget to check out my other main courses as well!