Healthy, whole-grain barley made in an Instant Pot. Made with just barley, water, and a few spices, this is a staple recipe that just keeps on giving. Perfect for meal prep, batch cooking, and quarantining at home! Take 5 minutes today to set your week up for success!
---
Barley made in the Instant Pot. It's not the most exciting recipe ever, but it's a versatile, pantry staple that you need in your repertoire. Why, you ask?
Two Three Four reasons:
Barley is a cheap and healthy whole grain that's chewy, hearty, and filling.
This recipe is so easy and so fast, it's basically your cheat code to meal prep.
It's a good switch up from your usual rice or quinoa. The more varied and diverse your diet, the healthier!
Let's be honest, are you going to reach for uncooked rice at 1:30 PM when you're ready to eat lunch? Probably not. You're more likely to reach for the easiest, least-amount-of-work food you can find. With a big batch of barley in your fridge, you can set yourself up for meal success!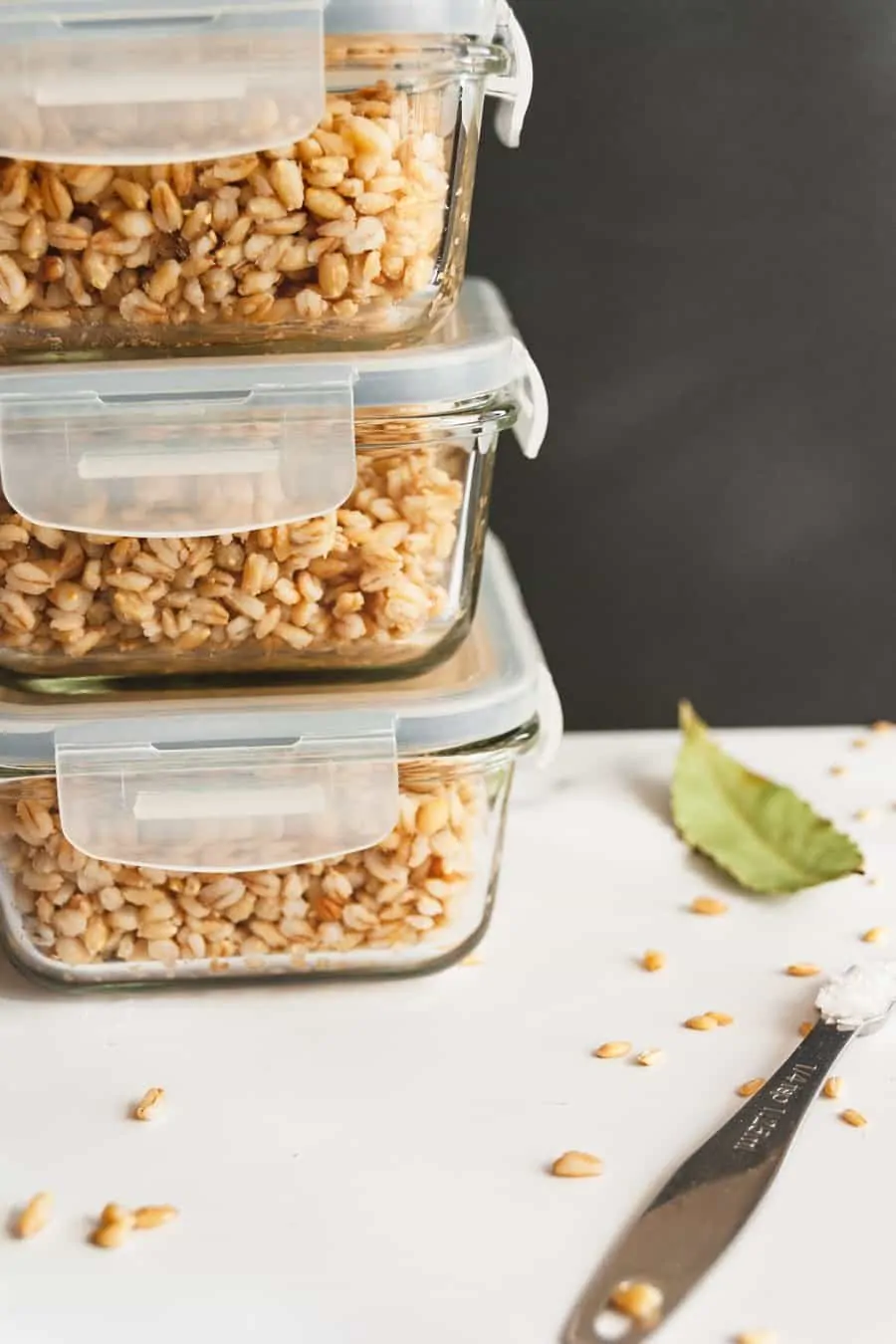 What is Barley?
Is barley in your recipe repertoire already? Have you eaten it at restaurants or in your grandma's soups but never made it at home? Maybe the closest you've gotten to eating barley is drinking your favorite beer. Whichever camp you fall in, I urge you to give barley a try. Here's why:
Barley is an extremely inexpensive grain that's been cultivated for thousands of years. It's chewy, a little nutty, and super versatile. It also expands a lot when cooking, so you get plenty of bang for your buck and lots of good results from your kitchen labor. 🙂
Barley is an important crop around the world, and it's especially helpful as a winter cover crop. Cover crops are a huge part of sustainable agricultural practices. They reduce soil erosion and, when rotated properly, help ensure optimized soil composition by reducing nitrogen left behind by previously grown crops.
Barley is also good for your own health! Barley is high in iron, potassium, fiber, and a variety of B vitamins. It improves gut health, enhances glycemic control, increases satiety, lowers cholesterol, reduces colon cancer risk, and prevents constipation. (You should always choose whole-grain barley to get all of these health benefits. Please see the next section for more information about choosing the right type of barley.)
While pearl barley is faster to cook, and some may call it "easier", whole-grain barley is always a better choice. In fact, since the Instant Pot makes everything pretty fast, it takes just a few extra minutes to cook up a whole grain version of barley!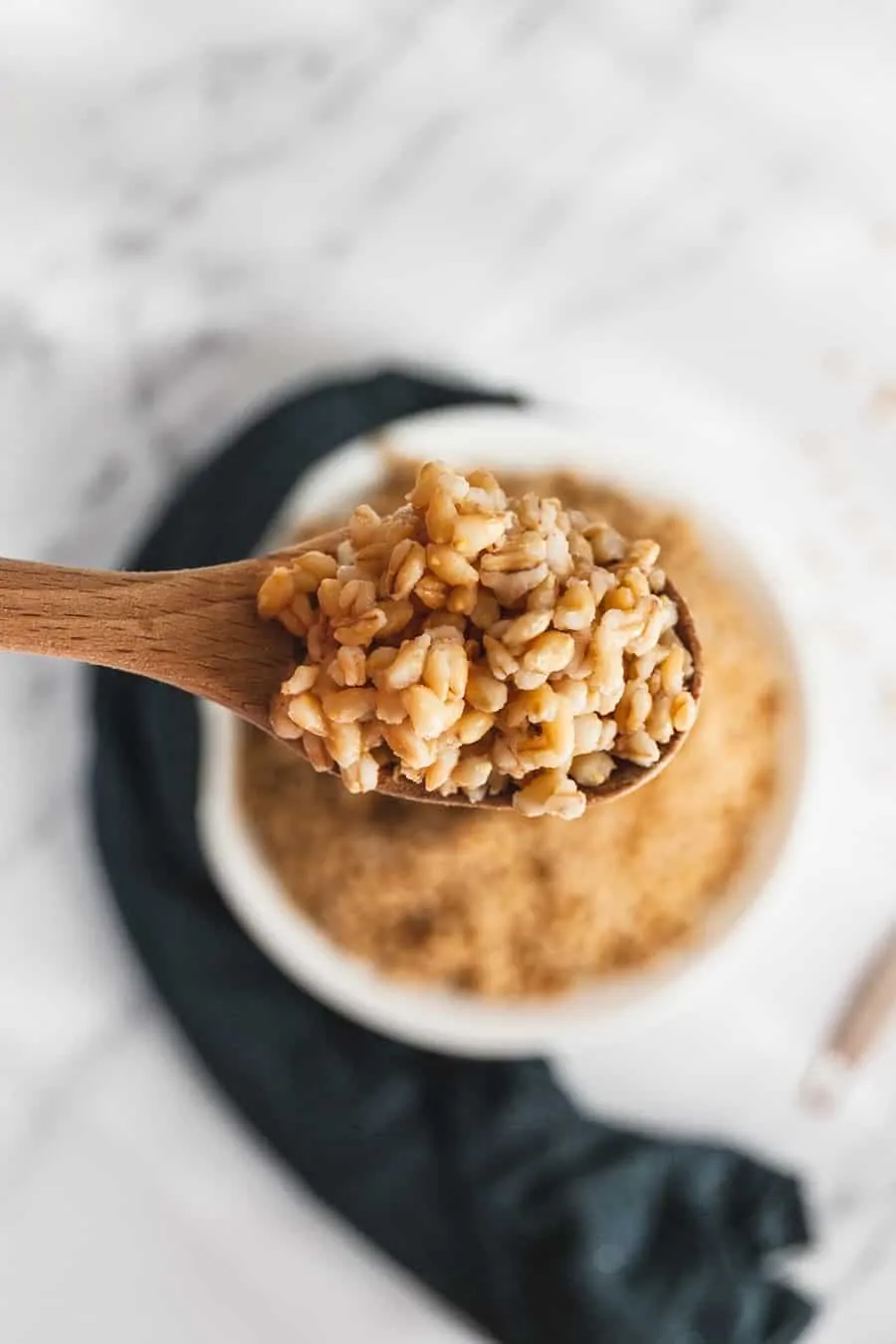 Hulled vs. Hulless vs. Pearled Barley
All of these terms refer to a particular type of barley, as I'll explain below. It may be a bit confusing, but both hulled and hulless barley are whole grains that contain the germ and bran.
Hulless barley is a variety of barley that has a lightly-attached "hull" on the outside of the grain. This hull comes off very easily and is typically lost during harvesting. Since it requires very little if any processing, hulless barley remains almost entirely intact.
Hulled barley is a variety of barley that grows with a thick outer hull, hence the name "hulled barley". To make this barley edible, though, the thick hull is removed, or de-hulled. Hulled and dehulled barley typically refer to the same type of barley: The barley grows with a thick external hull, so it's called "hulled", but then the outer hull is removed, so it's sometimes called "dehulled". Get it?
Finally, we have pearled barley, which is not a whole grain at all. Pearled barley is dehulled, as the two whole-grain versions above are. But instead of stopping there, pearled barley is processed further to remove the bran as well. After that, it's typically polished, or "pearled". This process removes much of the barley's healthy fiber and nutrients. Unfortunately, pearl barley is the type you'll most commonly find at your grocery store.
So there you have it. Four different terms to refer to barley processing. The bottom line is this: If you see hulled, hulless, or dehulled barley in your grocery store, you've got a whole grain on your hands!
Why Make this Instant Pot Barley Recipe?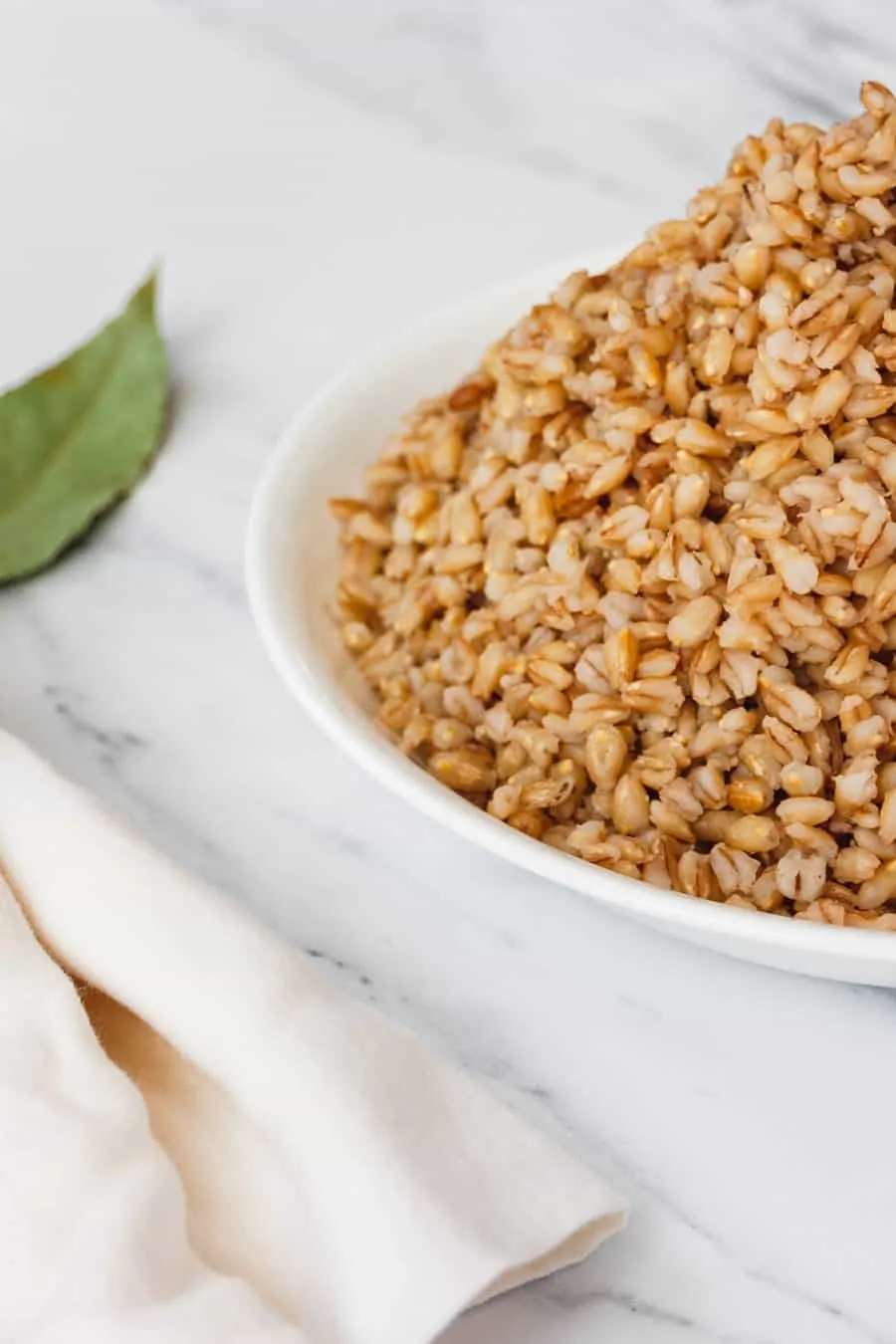 I created this recipe after trying and failing with THREE different online recipes. There was way too much water in one, one called for olive oil for some reason, and none of them tasted like anything.
Since I bought a 10-pound bag of barley, I was able to do plenty of experimenting until I got the recipe right. If you have HULLED (AKA "dehulled") barley at home, this recipe should work perfectly for you!
This recipe is great because it makes a big batch of barley at very little cost, especially if you buy your barley in bulk. When you cook grains in bulk and then refrigerate them before eating, as you would with meal prep, you create resistant starch.
Why should you care about resistant starch? It feeds your good gut bacteria, improves your digestive health, and lowers the grain's glycemic load. All without any additional effort on your part!
About the Ingredients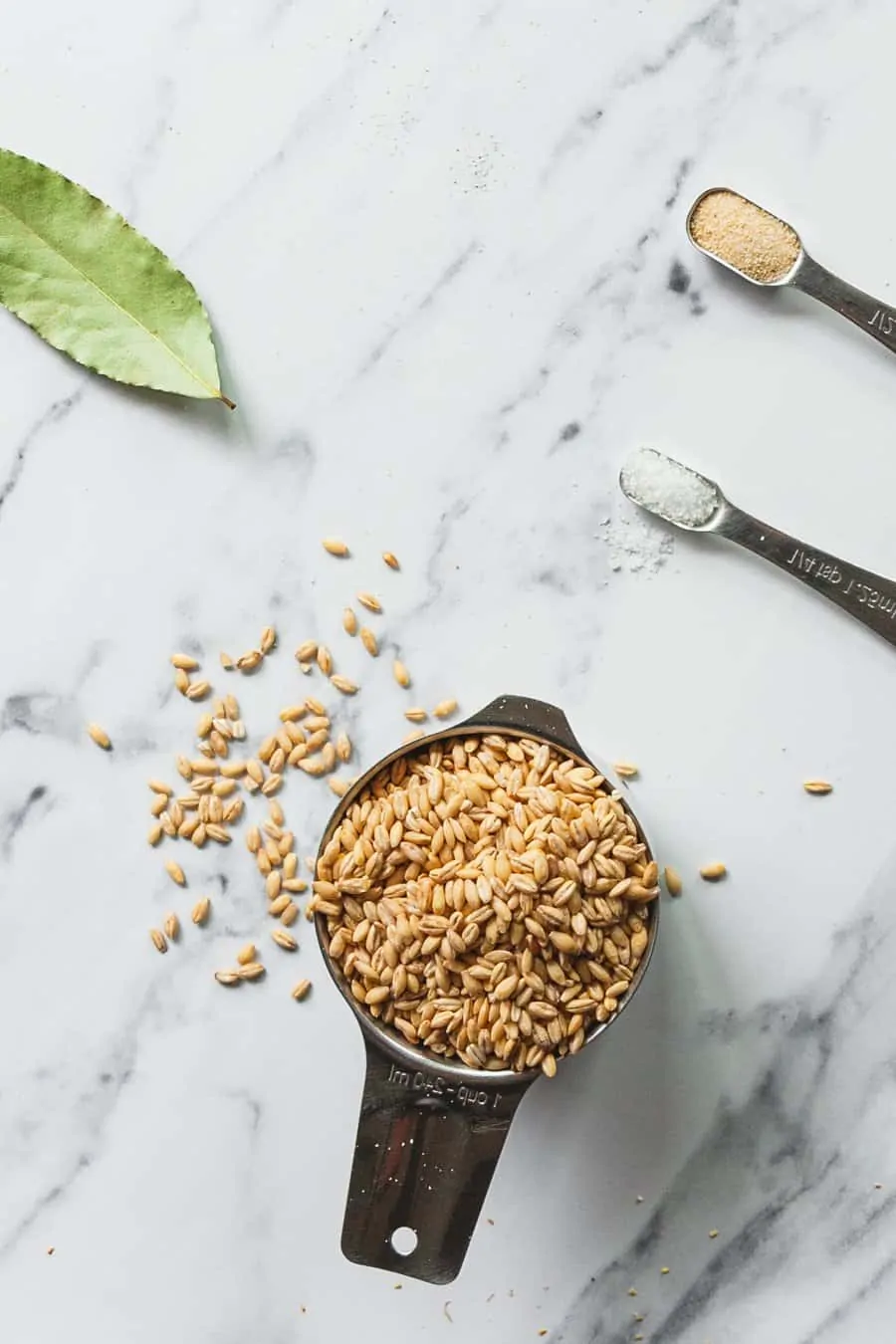 Nothing special here, just a few pantry staples to make this barley taste like…something. Barley is the ultimate neutral whole grain. Its texture is chewy and very slightly nutty, but it doesn't have much flavor on its own!
In this recipe, we are jazzing our Instant Pot barley up slightly, while keeping things fairly neutral. If you're looking to make barley for a sweet, rather than savory purpose, then skip the bay leaf and onion powder and reduce the salt. Otherwise, this recipe is neutral enough for any savory purpose.
Hulled Barley: As mentioned above, there are a few different types of barley. This recipe is meant for hulled (AKA dehulled) barley only!
Bay Leaf: A simple, classic flavor enhancer that improves the taste of almost anything. Use dried bay leaves for a stronger flavor. If you can only find fresh bay leaves, though, double (or even triple) up.
Onion Powder: We're not using much here. Just enough to lend a bit of flavor. Feel free to substitute garlic powder instead, if you'd prefer.
Water: Yes, water works! If you prefer more flavor, feel free to substitute your favorite low-sodium vegetable broth instead and omit the salt.
That's it! This recipe is easy and straightforward. It just plain WORKS.
Where can you find whole-grain barley?
As mentioned above, your regular grocery store probably carries pearl barley. If it doesn't list the particular type of barley on the package or if it looks very white, then you can assume it's pearl barley. This is the case, for example, with Goya Barley.
If you're having trouble finding whole-grain barley at your grocery store, try the specialty foods or organic aisle, a Whole Foods store in your area, or purchase it online. I buy my hulled barley online in bulk and have had good luck with this barley, which I buy in 10-pound bags.
Is Instant Pot Barley Slimy?
This is a legitimate question that lots of people ask about barley! Barley can become a bit "slimy" or "gelatinous" because it's quite starchy. I find that this is especially the case with pearled barley, or barley cooked in too much liquid. To combat the slime factor, rinse your barley extremely well before cooking it. Then drain and optionally rinse your barley again after cooking.
I don't usually rinse my barley after cooking it, personally, but you should definitely drain off the small amount of starchy liquid left over after cooking if you're sensitive to it. This will play a huge role in the barley slime factor.
Some recipes recommend adding oil to prevent sticking, but there's really no need for oil in basic cooked barley–just rinse the barley after cooking if you think the starchiness will bother you!
How to Use Cooked Instant Pot Barley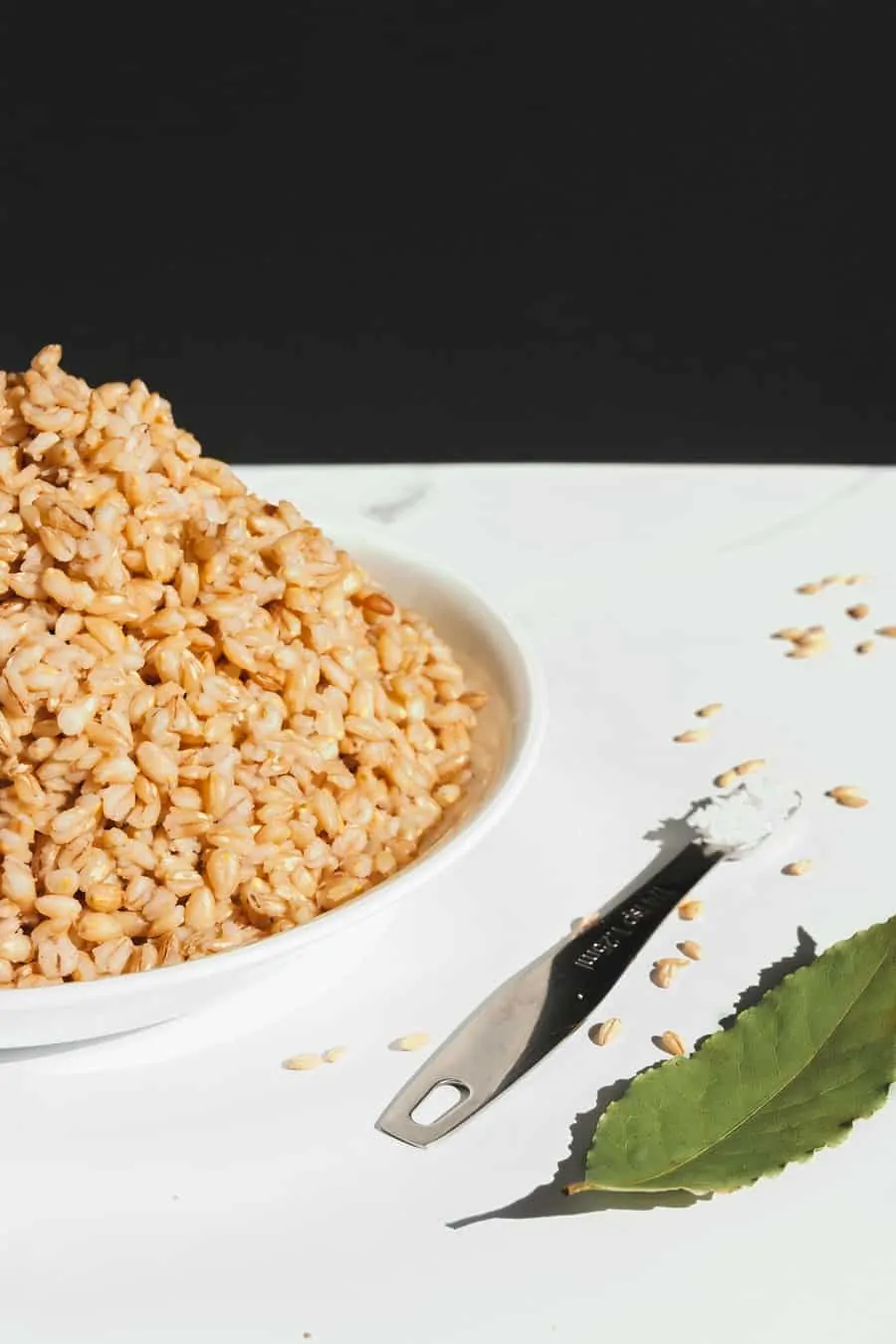 Once you have a big batch of this barley in your fridge, you're halfway to almost any meal of the day! Here's how you can use this healthy whole grain.
Use it in place of rice. Think taco bowls, buddha bowls, stir-fries, anything. If you would normally eat it with rice, you can almost certainly substitute barley.
Make a grain salad. Barley's chewy texture makes it a perfect candidate for grain salads. Simply combine beans, barley, cooked or raw veggies, and your favorite dressing for a super easy weekday lunch.
Add it to soups. Since some people are sensitive to how starchy barley can become when cooked directly in soups, add this pre-cooked barley to your soups instead. After cooking your barley normally, drain off the remaining cooking liquid, rinse under cool water, and add to your soup a few minutes before it's done.
Use it as a binder. We've talked a lot about how starchy and gelatinous barley can be. Well, use this attribute to your advantage and add barley to your homemade bean burgers.
Stuff it into something! Since barley has great texture and feels so hearty, it's wonderful for stuffing roasted sweet potatoes or winter squashes when the weather turns chilly.
Barley for breakfast. You can make a healthy morning grain bowl with barley instead of your usual oats. Just add nuts, non-dairy milk, cinnamon, and your fruit of choice for a new spin on breakfast. If you're going this route, OMIT the onion powder and bay leaf and reduce the salt!!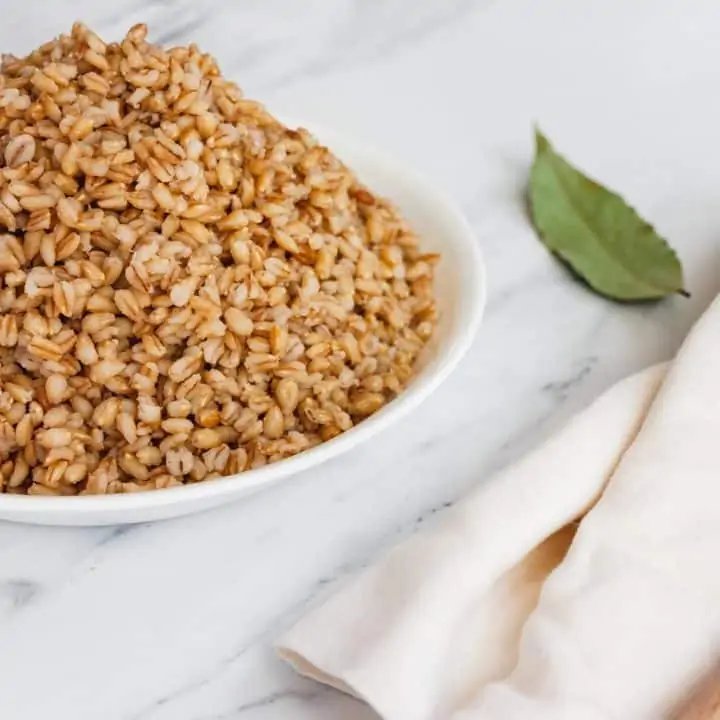 Instant Pot Barley
Additional Time:
14 minutes
Healthy, whole-grain barley made in an Instant Pot. Made with just barley, water, and a few spices, this is a staple recipe that just keeps on giving. Perfect for meal prep, batch cooking, and quarantining at home! Take 5 minutes today to set your week up for success!
Ingredients
1/4 teaspoon kosher salt
3 and 1/2 cups water
Instructions
Rinse your barley thoroughly under running water and place in the Instant Pot.
Add bay leaf, onion powder, salt, and water to the Instant Pot. Stir well.
Close your Instant Pot and set the steam release valve to "Sealing". Select the "Pressure Cook" button and set to cook for 24 minutes at High Pressure.
Once the cooking time is up, quick release the Instant Pot. Using a towel or wooden spoon, carefully switch the steam release valve to "Venting". Allow all steam to escape. Once the float valve has gone down, carefully open the Instant Pot.
Stir well and remove the bay leaf. Drain off the remaining liquid for best results and return to the Instant Pot to cool a bit.
After a few minutes, fluff the barley and serve.
Serve barley warm with your preferred accompaniments or allow to cool slightly before storing in glass containers for future use. Leftovers will keep for up to a week in the fridge, making this recipe perfect for a variety of meals throughout the week.
Notes
Types of Barley: This recipe is meant for hulled (AKA dehulled) barley only. I have not tested this recipe with hulless or pearled barley.
Want more flavor?: Cook barley with low-sodium vegetable broth instead of water.
Nutrition Information:
Yield:

14
Serving Size:

half cup
Amount Per Serving:
Calories:

93
Total Fat:

.6g
Saturated Fat:

.1g
Trans Fat:

0g
Unsaturated Fat:

0g
Cholesterol:

0mg
Sodium:

23.2mg
Carbohydrates:

19.4g
Fiber:

4.6g
Sugar:

.2g
Protein:

3.3g
Nutrition information is an estimate only, based on the recipe as written. Data was obtained through MyFitnessPal's recipe creator.
The Background and Science Behind these Ingredients
Introduction and overview of resistant starch and its benefits: improves gut health, enhances glycemic control, increases satiety, lowers cholesterol, reduces colon cancer risk, and prevents constipation
Importance of fiber and resistant starch for colon cancer prevention
Growing barley may have a positive impact on the environment
Barley is a good source of fiber, and fiber is vital to good health
A quick overview of the types of barley available
Background information about sustainable food systems, cover crops, and soil health was obtained from "An Introduction to the U.S. Food System: Perspectives from Public Health", a Coursera course offered by Johns Hopkins University
What do you think?
Thanks so much for stopping by! If you make this recipe, then please leave a comment and rating. I would love to hear what you think and how it worked out for you!
Don't forget to check out my other Instant Pot recipes as well!