Vegan Chocolate Pudding that's actually good for you! Made with just 6 ingredients, including sweet potatoes, this recipe comes together quickly and tastes amazing. This pudding is easy, velvety, make-ahead-friendly, oil-free, dairy-free, and vegan!
---
This chocolate pudding is fabulous! It's creamy, chocolaty, and thick. It even has the decadent mouthfeel you associate with chocolate and dessert. You would not guess that it's made primarily from sweet potatoes, unless you blended it up yourself. 🙂
Personally, I've never been a huge fan of sweets. They're usually just too cloyingly sweet and heavy in my stomach. When I started to think about a healthy dessert recipe, I racked my brain to create something special. Not something that's too sweet, not something that's too difficult to make, not something that's been done a million times before. And I've done it!
The ingredients in this recipe are simple. However, they combine to make a chocolate pudding that is creamy and complex, rather than just plain sweet. If you have a few cooked sweet potatoes in your fridge, you're just 5 minutes away from this tasty dessert!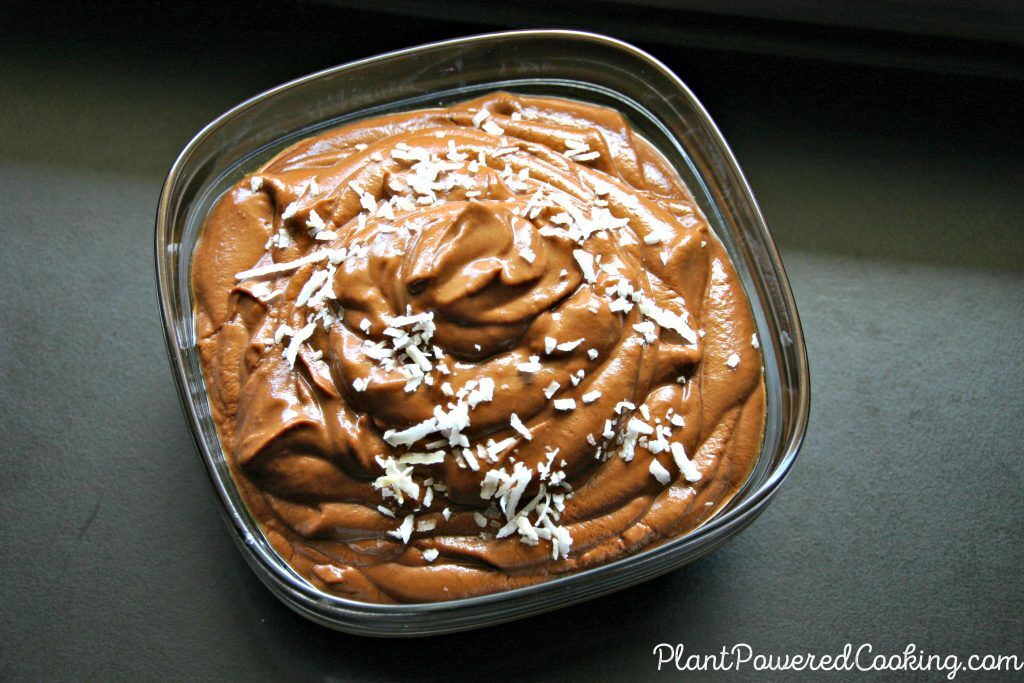 What makes this Creamy Vegan Chocolate Pudding special?
It's easy to make, secretly healthy, and tastes rich & creamy!
The inspiration for this recipe comes from chocolate cherry amaretto cookies. In high school, I had a very sweet friend who made them for me when it was my birthday and, sometimes, when I was sick. I hadn't thought about those cookies in a long time and, unfortunately, lost touch with that friend. However, they are the inspiration for this yummy recipe, which brings back fond memories.
The secret ingredient in this pudding is sweet potatoes. Yes, sweet potatoes for dessert. Talk about healthy!
The other special ingredient here is the almond extract, which lends a lovely, complex flavor to the pudding, and is reminiscent of those delicious amaretto cookies I received all those years ago.
This recipe is notable for what it does include (sweet potatoes and almond extract), but perhaps more notable for what it doesn't include. This pudding doesn't call for white sugar, artificial sweeteners, or hard-to-find sugar substitutes. Instead, this pudding relies only on dark molasses and sweet potatoes.
About the Ingredients
Sweet Potatoes: It's hard to get much healthier than sweet potatoes for dessert! You can practically see their beautiful orange antioxidants. Be sure to use cold sweet potatoes, or the texture of the pudding will be wrong.

I highly recommend using an Instant Pot to cook your sweet potatoes, since they become perfectly gooey with no effort at all. (For more ideas about what you can do with an Instant Pot, see these recipes.)
If you don't have an Instant Pot, feel free to bake your sweet potatoes instead. You don't want the sweet potatoes to get crispy, so bake them whole with the skin on until fully cooked and soft. Only then should you peel away the skin.

Soy Milk: Soy milk is a creamy non-dairy milk with very little aftertaste. It's also high in protein and isoflavones.
Cacao Powder: Cacao powder is less-processed chocolate. It contains the anti-inflammatory benefits and taste of chocolate, without the dairy, fat, and refined sugar that is typically added. This is the brand I use and recommend.
Dark Unsulphured Molasses: This is a readily-available, shelf-stable sweetener with health benefits that adds complexity to this pudding.
Almond Extract: My favorite part of this recipe! It layers beautifully with the chocolate and will have you going back for another spoonful. And then another…
Salt: The pinch of salt is optional here, but is widely regarded as helping chocolate flavors to "pop".
Between the sweet potatoes, soy milk, molasses, and cacao powder, this pudding provide tons of vitamin A, as well as iron, calcium, magnesium, potassium, etc. Not too bad for a delicious, chocolaty dessert! Grab your food processor and let's get blending!
Substitutions
You may substitute the almond extract with vanilla extract, but you will lose, in my opinion, the best part of this recipe.

If you're looking to customize your pudding, I highly recommend checking out this healthy chocolate mousse instead. The mousse is similar to this chocolate pudding but is richer, thicker, and more easily customizable. Read the full mousse post for lots of different flavor options!

You may substitute the soy milk with an unsweetened plant milk of your choice, but try to choose a thick non-dairy milk.
Date sugar, pureed dates, or date syrup can be substituted for the molasses. Substitution amounts will vary depending on which alternative you choose. However, the upside of a recipe like this is that you can adjust the sweetener to taste after you blend. Taste, add more, then blend again. Easy!
How to Top Your Creamy Chocolate Pudding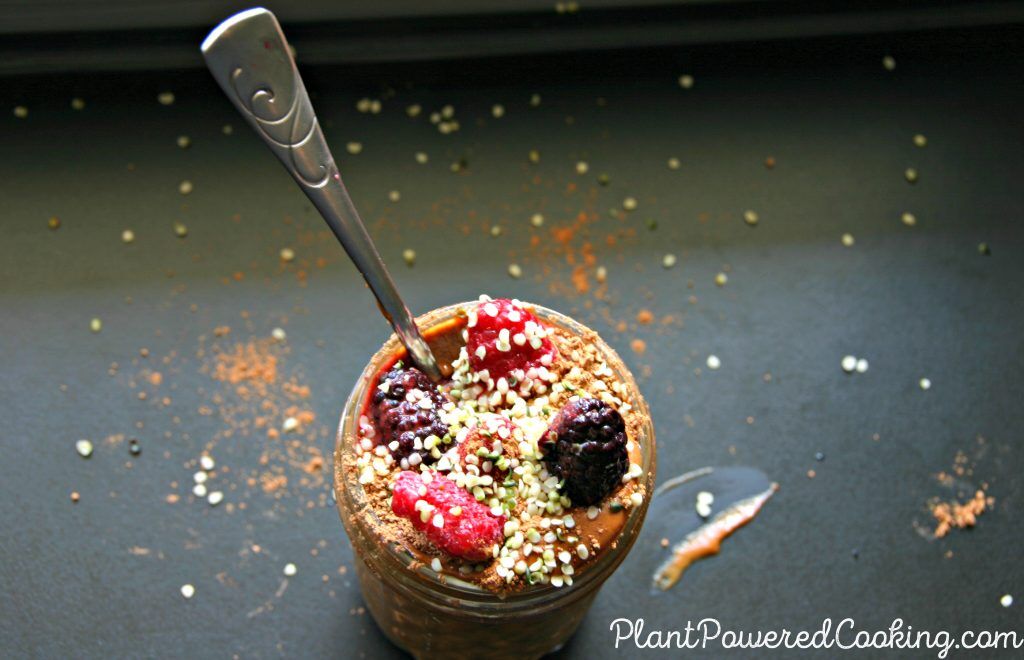 This chocolate pudding is delicious on its own. However, it is even more delicious when you add a pop of color or something crunchy. I highly recommend topping this pudding with berries, especially raspberries!, hemp hearts, or unsweetened shredded coconut. Chopped nuts would also be delicious.
When served in individual pots, bowls, or mason jars, this pudding makes a wonderful dessert for guests, especially those with dietary restrictions.
This creamy, vegan chocolate pudding is easy, velvety, make-ahead-friendly, and allergen-friendly. I hope you love it as much as we do!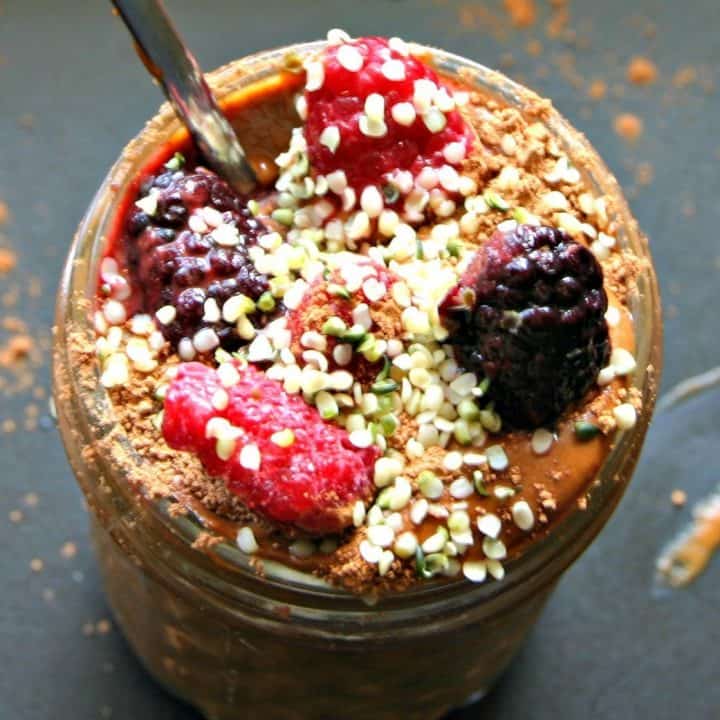 Creamy Vegan Chocolate Pudding
Vegan Chocolate Pudding that's actually good for you! Made with just 6 ingredients, including sweet potatoes, this recipe comes together quickly and tastes amazing. This pudding is easy, velvety, make-ahead-friendly, oil-free, dairy-free, and vegan!
Ingredients
2 packed cups cooked, cooled, and peeled sweet potatoes (approximately 500 grams)**
1 1/2 cups unsweetened soy milk
3 tablespoons dark molasses (unsulphured)
1 pinch salt (optional)
Instructions
Add sweet potatoes and cacao powder to your food processor, followed by all other ingredients. This is to ensure you don't create a cloud of cacao powder when you start blending.
Blend until smooth, stopping to scrape down the sides of the food processor bowl as needed.
Taste and adjust sweetness to your preference.
If your sweet potatoes and milk were very cold when you started, you could serve this pudding right away. Otherwise, chill your pudding in the fridge for 30 minutes to an hour before topping and serving. Leftovers will keep for about 5 days in the fridge.
Notes
Food Processor Tip: Depending on the size and style of your food processor, you may need to add half of the soy milk to start, blend, and then add the other half. This prevents the soy milk from going over the liquid fill line and leaking onto your counter.
Sweet Potatoes: I batch cook my sweet potatoes for the week in my Instant Pot. Once cool, they peel easily and are gooey soft. For this recipe, I used a total of 500 grams of cooked and cooled sweet potatoes (about 3 medium-sized orange sweet potatoes). Be sure that your sweet potatoes are cool/cold for this recipe. If you blend warm sweet potatoes, the texture will be gummy and not silky smooth.
Molasses: I used Grandma's dark molasses for this recipe, which is considered quite a healthy sweetener. Brer Rabbit blackstrap or dark molasses are other high-antioxidant options.
Nutrition Information:
Yield:

8
Serving Size:

1/2 Cup
Amount Per Serving:
Calories:

109
Total Fat:

1.7g
Cholesterol:

0mg
Sodium:

55mg
Carbohydrates:

23g
Fiber:

4.9g
Sugar:

9.7g
Protein:

4g
Nutrition information is an estimate only, based on the recipe as written. This estimate does not include any optional toppings. Data was obtained through MyFitnessPal's recipe creator.
The Background & Science Behind these Ingredients
What do you think?
Thanks so much for stopping by! If you make this recipe, then please leave a comment and rating. I would love to hear what you think and how it worked out for you!
Don't forget to check out my other dessert recipes as well!