This Braised Balsamic Tempeh recipe with creamy white beans is the vegan entree you've been waiting for. It's made on the stove top, in ONE skillet. It's complex, full of flavor, and just plain yummy. This is an Italian-inspired meal that's sure to satisfy the whole family!
---
I love this Braised Balsamic Tempeh recipe because it is truly main course-worthy. It tastes rich, thanks to the tomatoes and balsamic vinegar. It tastes hearty, thanks to the tempeh and white beans. And it will make your kitchen smell ah-mazing, thanks to the long-simmering peppers, onions, garlic, and rosemary.
This balsamic tempeh is a delicious, vegan entree. It's easy enough for a mid-week meal when you don't have time to stand over the stove. (As we'll see below, this meal basically cooks itself while you get other things done!) It's also tasty enough to satisfy your omnivore guests.
Let's take a look at this Braised Balsamic Tempeh recipe!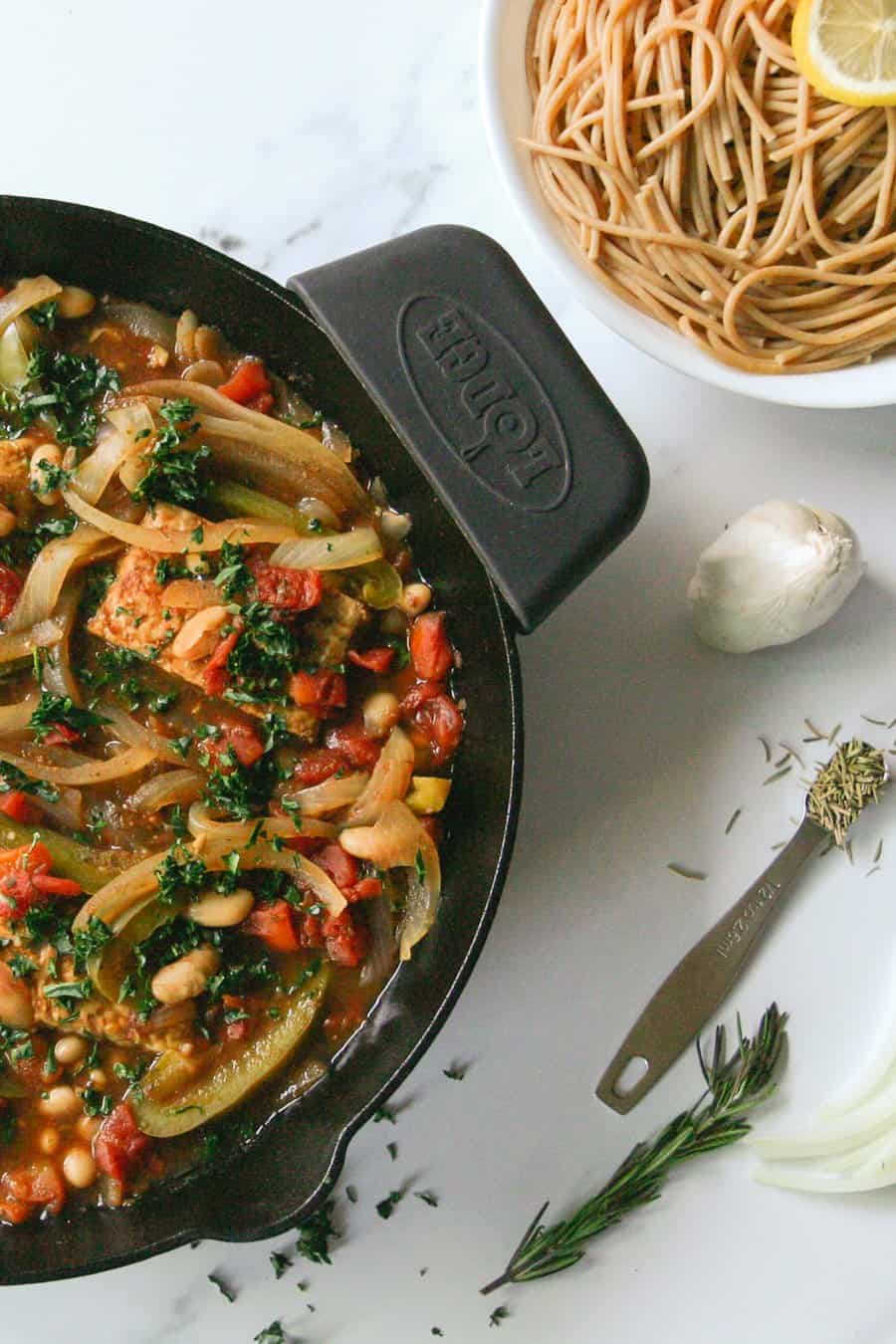 What is Tempeh?
Have you heard of tempeh yet? Do you cook with it all the time? Or do you not have any idea what I'm talking about? 🙂 No matter the camp you fall in, we're going to quickly cover the basics!
Tempeh is a traditional, fermented soy food. To make tempeh, whole soybeans are soaked, split, and cooked. The prepared soybeans are then packed together and shaped into oblong blocks. At that point, a starter culture is added and the tempeh blocks are allowed to ferment.
Since tempeh uses whole soybeans, it's considered a whole food. In fact, tempeh is widely considered a better, more whole food than tofu, since it is less processed overall. Tempeh also gains some unique properties and enhanced nutritional benefits through its fermentation process.
Why is Fermentation a Good Thing?
Fermented products are typically easier to digest. As part of the fermentation process, a yeast, mold, or bacteria partially breaks down a food's sugars and starches. This partial breakdown actually increases the bioavailability of many vitamins and minerals and reduces phytates.
In addition, fermented foods contain beneficial bacteria and enzymes that may help your gut microbiome. Through eating fermented, probiotic foods, and a variety of other fibrous, prebiotic plant foods, you are helping to keep your microbiome healthy and functioning at its best.
You may be wondering what your microbiome does for you. In short, quite a lot!
The benefits derived by us humans from our microbiotas have profound consequences for health. Some of the best-documented benefits include assistance in the digestion of food components our guts can't handle by themselves, regulation of our bodies' metabolism, processing and detoxification of dangerous chemicals that we ingest with our food, training and regulation of the immune system, and prevention of invasion and growth of dangerous pathogens. On the other hand, disturbance and alterations in the gut microbiome—gut microbiota and their collective genes and genomes—are associated with a wide variety of diseases, such as inflammatory bowel disease, antibiotic-associated diarrhea, and asthma, and they may even play a role in autism spectrum disorders and neurodegenerative brain disorders like Parkinson's disease.
Eating tempeh is an easy way to get some healthy, natural probiotics into your diet. Your microbiome will thank you for the beneficial bacteria, and you may also find yourself with fewer stomach aches and pains.
Tempeh versus Tofu
So many people are intimidated by tempeh, but I personally think that tempeh is easier to work with than tofu. Let's look at a quick comparison…
About Tofu
Tofu is soy milk that's coagulated and pressed into blocks.
It's a blank slate that you need to work to flavor.
There are many different varieties and firmness levels to choose from.
You typically want different types for different recipes.
It can crumble easily, (especially, it seems) when you want it to stay intact.
Many recipes recommend pressing the tofu for 20 minutes before cooking.
It's slightly more processed than tempeh.
About Tempeh
Tempeh is whole soybeans that are fermented.
It has texture and flavor of its own already!
There's typically only 1 or 2 varieties at many supermarkets.
All commercial types of tempeh behave the same way when cooking.
It's slice-able, cube-able, and crumble-able. And it will do what you tell it to do!
No pressing or waiting time required. (Some recipes may call for a steaming/marinating step.)
It's less processed than tofu, and has the additional benefit of being fermented.
Don't get me wrong. I really enjoy tofu! But if you enjoy tofu and have never tried tempeh, it's time to give it a try!
If you're buying tempeh for the first time, then please note that there are certain tempeh varieties that contain gluten. In particular, "three grain" tempeh from Lightlife contains barley. If you're gluten-intolerant, look for a variety that contains only soybeans.
How to Make Tempeh Taste Good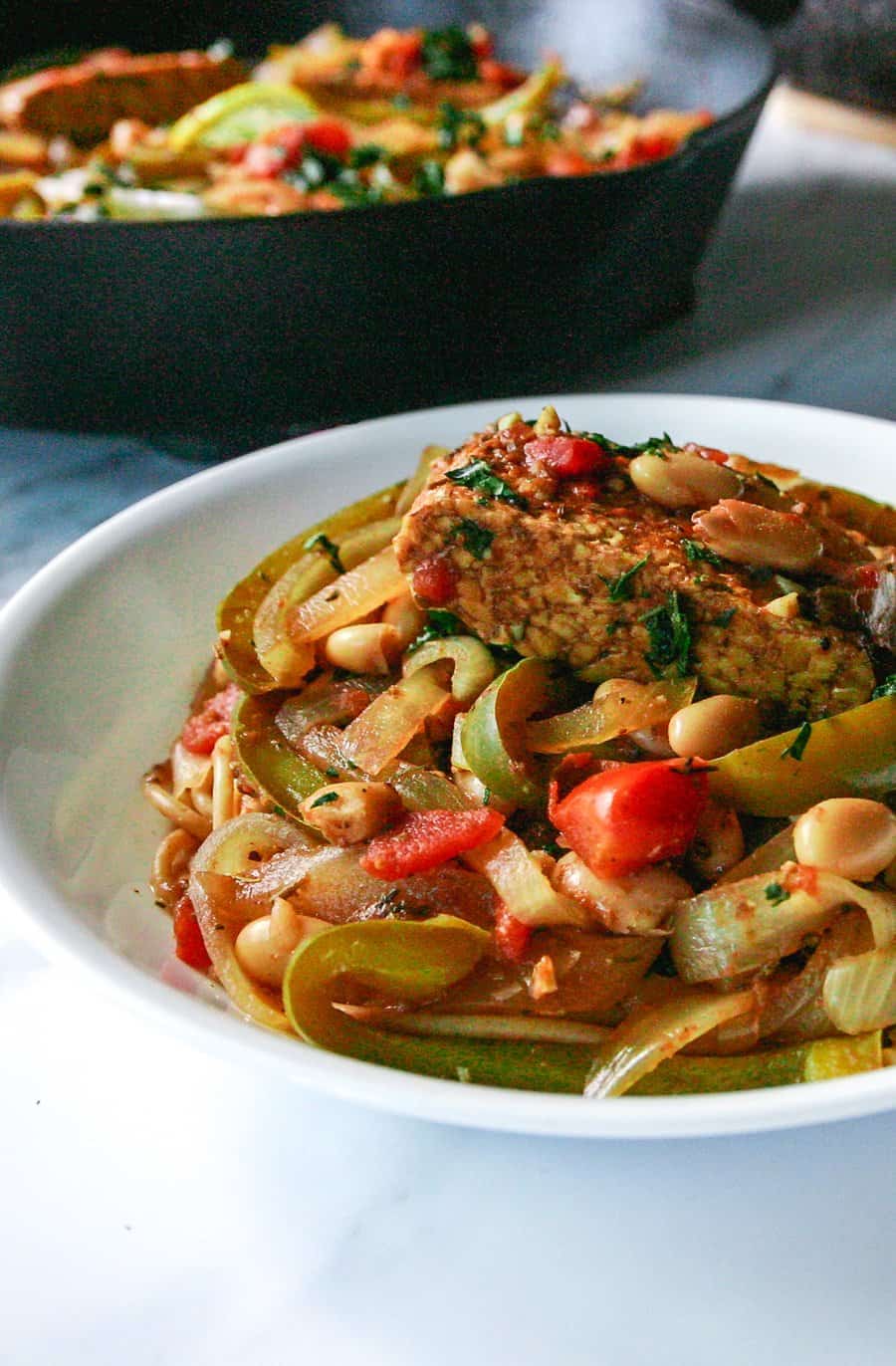 Have you tried tempeh and hated it? Some people complain about the earthy flavor of tempeh, or its aftertaste. If this is you, remember that it can take time to get used to new foods. There are also some cooking methods to change the characteristic "tempeh taste".
The trick is boiling the tempeh. This is certainly not a secret, or at least, not a well-kept one. However, the difference with this recipe is that the boiling happens alongside the cooking. You won't have to use multiple pans or go through a multi-step cooking process.
The other secrets to making tempeh taste good: a lot of delicious seasonings, an acid, and a wet cooking method that makes the tempeh moist and mellows its earthy flavor.
What's Special About this Braised Balsamic Tempeh Recipe?
The "braising"! For this recipe, we are cooking the tempeh in a liquid for about 45 minutes. This is significantly less time than a typical, bone-in meat braise. However, this is the perfect amount of time for tempeh. During the braising process, the tempeh loses the bitterness that some people complain about and gains plenty of flavor from the peppers, onions, balsamic vinegar, and herbs.
I love this recipe because it's a main course-worthy dish. It is hearty, satisfying, and full of flavor. I also think it's a perfect meal to serve to those who are reluctant to try a plant-based diet. Here's why:
This balsamic tempeh recipe has plenty of umami from the tomatoes, tamari, and, of course, the tempeh. We know that umami is deeply satisfying and pleasing to our palates. It also promotes satiety.
The texture of tempeh is firm and it slices well with a fork and knife. Thanks to the texture, tempeh approximates "meatiness" fairly well.
About the Ingredients
We've talked a lot about tempeh so far! When at the grocery store, look for tempeh in the refrigerated section. It is also sometimes in a specialty vegetarian section. If you can't find it anywhere and are met with blank stares, try asking about tofu instead. If the store worker can point you to the tofu section, you can take it from there!
All of the other ingredients in this recipe are extremely easy to get your hands on. In fact, you probably have most of these ingredients in your well-stocked pantry already.
Tempeh is a whole, fermented soy food. It's high in protein, probiotics, vitamins, and minerals. If you're transitioning to a plant-based diet, this is the completely healthy meat substitute to try out.
Beans of your choosing to help this meal stretch a little farther. Try white beans, like Cannellini or Great Northern, since they have a wonderful silky texture. To make this recipe more economical, make your own Instant Pot White Beans!
Diced tomatoes for antioxidants, like lycopene, and to help make a delicious sauce.
Peppers, onions, and garlic to flavor the sauce and for a dose of healthy veggies. Did you know that garlic and onions are "mineral-absorbing enhancers"? Go forth, and add them to basically everything. 🙂
A healthy dose of Italian seasoning and rosemary to round out the Italian-inspired flavors.
How to Serve Braised Balsamic Tempeh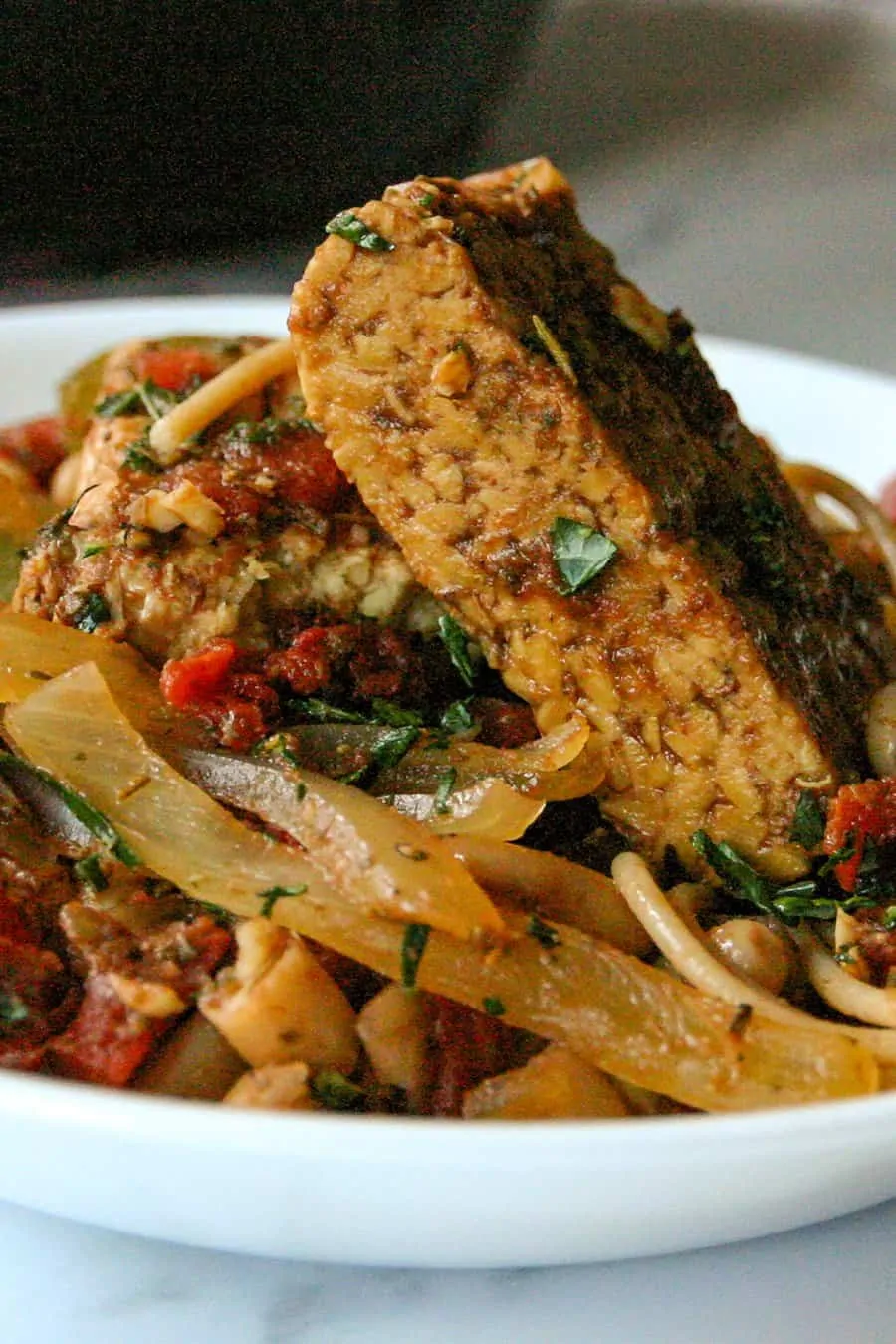 This balsamic tempeh recipe packs lots of plant-based protein. To make it into a meal, serve your tempeh over a bed of quinoa, couscous, rice, pasta, etc. Add a side of crusty whole-wheat bread and a salad for an Italian-inspired meal that's super filling and satisfying!
I hope you love this Braised Balsamic Tempeh recipe!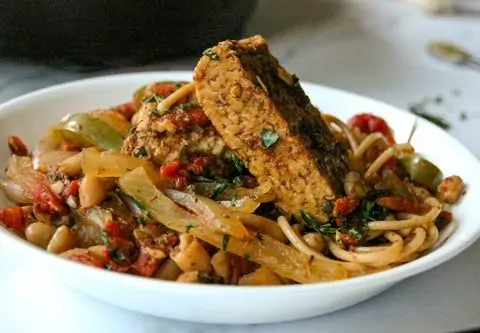 Braised Balsamic Tempeh with White Beans
Additional Time:
5 minutes
This Braised Balsamic Tempeh recipe with creamy white beans is the vegan entree you've been waiting for. It's made on the stove top, in ONE skillet. It's complex, full of flavor, and just plain yummy. This is an Italian-inspired meal that's sure to satisfy the whole family!
Ingredients
1 8 oz block tempeh, cut into 4 rectangles
1 and 1/2 cups hot water
2 tablespoons balsamic vinegar
1 large onion, sliced
1 large bell pepper, sliced
4 cloves garlic, minced
1 14.5 oz can no salt-added diced tomatoes, undrained
1 tablespoon Italian seasoning blend
1 teaspoon dried rosemary
1/2 teaspoon black pepper
3/4 cups water
Fresh herbs, such as basil or parsley, for garnish (optional)
Instructions
Combine mustard, vinegar, and tamari in a small bowl. Add 1 and 1/2 cups hot water. Mix well and set aside.
Heat a large skillet over medium heat. Add the tempeh pieces to the skillet and pour the sauce from step 1 on top.
Cover skillet with a lid and allow the tempeh to cook for 10-15 minutes over medium-low heat. While the tempeh cooks, gather the rest of your ingredients and prepare your vegetables.
After 10-15 minutes, flip the tempeh over. Add onions, peppers, tomatoes, garlic, and spices to the skillet. Pour 3/4 cups of water over the top.
Turn heat up to high and allow the skillet to come to a gentle boil. Once lightly bubbling, reduce heat to medium-low, cover, and simmer for 20 minutes.
After 20 minutes, uncover, stir, and add your white beans to the pan. Stir to gently incorporate the beans into the sauce.
Cover and cook everything for a further 10 minutes.
When the timer is up, taste and adjust seasonings to your preference. Serve your Braised Balsamic Tempeh over a bed of quinoa, couscous, rice, pasta, etc. Top with fresh herbs, such as parsley or basil, if desired. This dish is best served right away, but leftovers will keep for a few days in the fridge.
Notes
You may use almost any kind of mustard you have on hand (I've tested with stone-ground, whole grain, and dijon varieties). I advise against American yellow mustard, though.
Almost any kind of canned or homemade beans will work in this dish, though soft and creamy varieties are particularly tasty. If using homemade, drain the liquid (no need to rinse), and use about 1 1/2 cups of beans. To reduce the sodium significantly, buy no salt added beans.
Any color bell pepper works, though green is a bit earthier and adds additional color to a mostly red dish.
Nutrition Information:
Yield:

4 servings
Serving Size:

1 piece of tempeh with veggies and sauce
Amount Per Serving:
Calories:

275
Total Fat:

3g
Saturated Fat:

.4g
Trans Fat:

0g
Cholesterol:

0mg
Sodium:

809mg
Carbohydrates:

41g
Fiber:

14g
Sugar:

8g
Protein:

20g
Nutrition information is an estimate only, based on the recipe as written. Data was obtained through MyFitnessPal's recipe creator.
THE BACKGROUND AND SCIENCE BEHIND THESE INGREDIENTS
What do you think?
Thanks so much for stopping by! If you make this recipe, then please leave a comment and rating. I would love to hear what you think and how it worked out for you!
Don't forget to check out my other main courses as well!